Life skills instructor named teacher of the month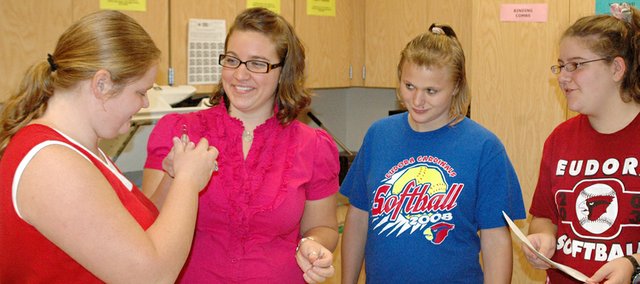 Eudora High School life skills instructor Abby Scheu's classroom, with its kitchen and couches, resembles a lounge where someone might relax. However, these comfortable surroundings are the environment where Scheu put in the work to be named the Eudora Chamber of Commerce's Teacher of the Month for September.
Scheu, who has been teaching for three years at EHS, said she was surprised to be recognized and it was an encouraging experience.
"An award is great because you know that you have your staff's support," she said. "And in teaching, especially in life skills and special education, it's great to know that you have your staff's support and they're rooting you on."
Scheu teaches students with disabilities the skills they will need to become independent. They learn everything from cooking and hygiene to interview skills and how to balance a checkbook.
She also sets up scenarios with students on how to react to various incidents and interpersonal interactions.
"My job is so great because it's in my curriculum to teach them respect and how to treat one another," Scheu said.
Throughout the year, Scheu and the students also work throughout Douglas County in order to get the students a variety of job experiences so they might find something they would like to do when they are finished with high school.
They have done work at the Lawrence Humane Society, Clearfield Farm and currently are helping with cataloging at the library in Eudora Elementary School.
"I want to offer them as many different job possibilities as possible," Scheu said. "I want to try to put them in as many places from stocking shelves at a grocery store to planting at Clearfield Farm."
Scheu also enjoys the work experiences because she gets to see another side of the students that is unlike what she sees in the classroom.
"In the classroom, they're more proper and know the right thing to say," Scheu said. "But when we're out in the community, a different part of them comes out and it is just them as a teenager. I also get to offer a different side of my personality, too."
When she was a junior in high school, Scheu babysat a young girl with special needs. After a conversation with the girl's mother about the lack of special education teachers, Scheu decided to become a teacher.
EHS principal Dale Sample is happy that she made that decision.
"Abby goes beyond the norm," Sample said. "She does a lot of good things for kids that people don't even know about; she is in it (teaching) for the right reasons. A lot of people could not do her job and she's a great asset to our district."