Miss EudoraFest pageant open to a wide range of ages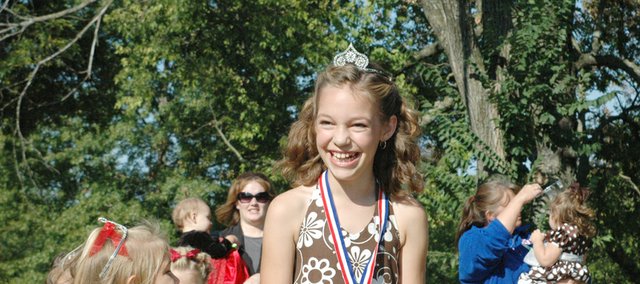 Miss EudoraFest isn't your typical beauty pageant.
A wide age range of girls, and even boys can compete in the annual EudoraFest competition, said Donna Foster, contest spokesperson.
"We do ages zero to 18-years old," she said. "It's a wide range. Then we break it down to sections like Baby Miss, Petite Miss and Teen Miss."
The sections are created so younger contestants don't directly compete against older, more seasoned contestants.
"Then there is an overall winner, besides the section winners," Foster said.
Contestants taking part in the competition are judged on different categories including glamour and personality, Foster said.
"They aren't all dolled up," Foster said. "It's more of a natural glamour."
The personality portion of the contest is comprised of a few age-appropriate questions, Foster said.
The pageant is a jumping off point for the Our Diamond Miss pageants. The winner of the EudoraFest pageant can go on to preliminary competition, then to state, Foster said.
Our Diamond Miss has pageants in Kansas, Nebraska, Oklahoma and Texas. Nationals, the final round of competition, is in Oklahoma.
"It's a very family organized group," Foster said. "The families hang out and talk together. I've made many lifelong friends with the group."
While, the competition drew about 20 contestants last year, Fosters is hopeful more will turn out for the competition Saturday, Oct. 3.
Those wanting to participate can pre-register at Gambino's Pizza on Friday, Oct. 2 or call Donna Foster at 785-690-7012.
Look for more EudoraFest coverage in next week's paper.