Cardinals top Panthers 35-27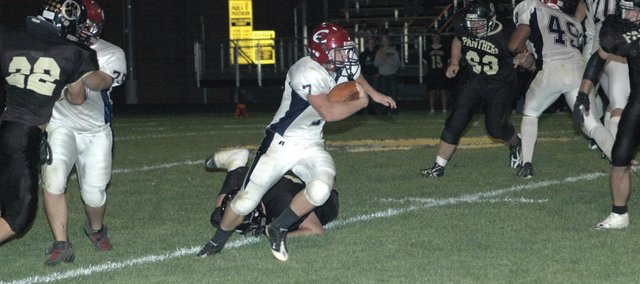 PAOLA - Evan Cleveland ran for 129 yards and scored two rushing touchdowns and completed six of seven passes for 81 yards and threw for another touchdown to lead Eudora to a 35-27 win Friday at Paola.
Eudora trailed 14-13 at the break, and Paola opened the third quarter with a 15-play 75-yard touchdown drive to put Eudora in an eight-point hole. But Eudora's Reece Long ran the ensuing kickoff back 85-yards for a touchdown, and Cleveland converted the two-point conversion to even the score.
On the ensuing Paola drive, Brian Katzfey picked off his second pass of the night, and Cleveland hit Christian Richardson on a slant pattern that turned into a 31-yard touchdown to give the Cardinals the lead at 28-21 with 2:16 to play in the third.
Midway through the fourth, from 32-yards out, Cleveland took a quarterback sweep to the right, and slithered back left across the formation and sprinted down the left sideline and dove into the end zone just past a Paola player to give Eudora a 35-21 lead.
Paola's Skylar Hawkins returned the ensuing kickoff 82-yards for a touchdown, but Eudora blocked the PAT and ran out the clock.
Boomer Mays had 14 carries for 65 yards and scored one touchdown for the Cardinals. Eudora (4-0) totaled 217 yards rushing for the game. For more on this story, read Thursday's Eudora News.
Score by quarters
1 2 3 4 F
Eudora 7 6 15 7 28
Paola 7 7 7 6 27
Scoring summary
P-Skylar Hawkins 3-yard run (Brint Hastert kick) 3:12
E -Evan Cleveland 28-yard run (Matt Jump kick) 2:15
P - Skylar Hawkins 60-yard run (Hastert kick) 7:52
E - Boomer Mays 25-yard run (PAT miss) 1:45
P - Brint Hastert 8-yard pass from Seth Kern (Hastert kick) 5:46
E - Reece Long 85-yard kickoff return (Cleveland 2-point conversion) 5:30
E - Christian Richardson 31-yard pass from Cleveland (Jump kick) 2:15
E - Evan Cleveland 32-yard run (Jump kick) 7:32
P - Skylar Hawkins 82-yard kickoff return (kick blocked) 7:19.