Going the distance
Cross country a perfect fit for
EHS

junior runner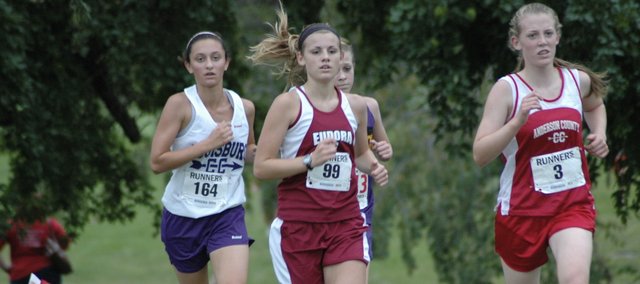 To Eudora junior Kaya Riemann, cross country is more than just a sport. Sure, she has ran in the state meet, but cross country has helped her form life-long friendships and has even taken her overseas.
This summer Riemann traveled to Norway for two weeks and met with up her best friend, who was a senior foreign exchange student and cross country runner when Riemann was a freshman.
"We went and trained together, just like old times," Riemann said. "You form life-long friendships through cross country. I came into high school my freshman year and they were all my friends."
The two friends also toured the country and went on an eight-hour hike and also biked 30 miles across a mountain rage.
"I came back here and I was ready to go. I was ready to run," Riemann said.
But similar to last season, Riemann has battled injuries much of the season so far. But Riemann is starting to get healthy, and Eudora cross country coach Paul Boone knows that she is one of the toughest runners on the squad.
"She's got a real opportunity this year because she's been banged up a little bit," Boone said. "And it's really kind of an opportunity for her to show and kind of work through those things and finish strong.
"So I'm excited about her. I'm a big fan of Kaya's. I think she can do it. She's had kind of an up and down season, but that's kind of the way things go sometimes. Nothing ever works perfectly and you have to kind of work through some things. And so she's a competitor, and I'm confident she'll be able to work through that."
Riemann was slowed in her first two races of the year, but had a strong run recently at Wellsville, finishing in eighth-place at 18:10, which is off the pace from her 17:25 time last year at the state meet in Wamego, where she finished 51st out of 104 runners. But Boone said Riemann's best races are still to come.
"It's a challenge to know when to push and when to hold off," Boone said. "So we're just tying to find that magic line. But I'm confident she will finish the season strong."
Riemann, though, is more concerned about the team than herself.
"We have a really, really young team," Riemann said. "And I just want the team to be close and be like a family like we usually are. And I want them to be competitive at regionals. I know every single one of the girls are capable of being out there."
While Riemann has proven to be a talented distance runner in cross country and track for the Cardinals, distance running initially wasn't for her.
"When I was an eighth-grader I thought I was going to be some big baller, playing basketball," Riemann said. "And then when we hit track and I thought I was going to run the 100-meters, and I wasn't very fast. And they were like, 'Kaya, go run the mile in practice.' I sat there and cried on the third lap and said I can't do this."
But three years later, Riemann has proven she can run a 4K race with the best of them, no matter what adversity she faces.
"You come out here and you really see the guts of a person," Riemann said. "It's nothing like track. You battle against the weather, you battle against each other. You get dirty, trust me.
"But you feel so good about yourself after you finish. We did a 10-mile race and it was 30 degrees outside and snowy. And there's nothing better than that. And I think even just running four or five miles with your team, you get so close like a family."
More like this story