Kickoff returns spark Cards 35-27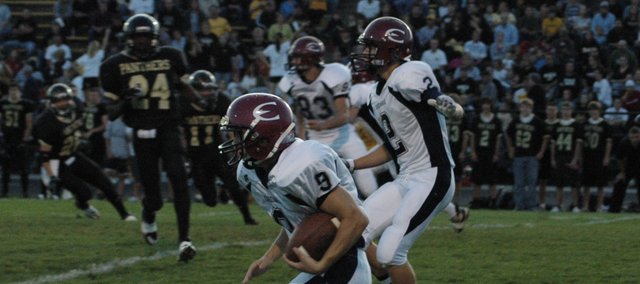 A return to the 50-yard line would have been sufficient for Eudora senior kick returner Reece Long.
"I knew I had to make a good return on it because coach (Marcellus) Jones is always telling me we need to get it past the 50 and get good field position," Long said. "So I knew if I ran hard that I'd get good field position, and the touchdown was just icing on the cake."
After Paola took the opening possession of the third quarter and marched 75-yards in 15 plays to the end zone, the Cardinals were in an eight-point hole. On the kickoff, Long made the catch at the 15-yard line and his knee was almost on the ground. Long then ran straight, spun and dashed right down the middle of the field for an 85-yard touchdown, and the Cardinals rallied to beat Paola 35-27 Friday at Paola.
Long's kickoff return was just one of several big plays on the night for the Cardinals. Long also returned a kickoff 53-yards in the first quarter that culminated in an Evan Cleveland 28-yard touchdown run to tie the game at seven. Brian Katzfey also made the first of his two interceptions late in the first half that killed a Paola scoring drive. Alex Whitten, Caleb Clayton-Molby and Tanner Byrne all made critical fourth-down tackles on defense, and Cleveland connected with Christian Richardson on a 31-yard touchdown pass to give Eudora the lead for good, and Cleveland capped the night with a 32-yard touchdown run midway through the fourth when he took a quarterback sweep to the right and slithered back left across the formation and sprinted down the left sideline and dove into the end zone, just past a Paola player to give Eudora a 35-21 lead.
Cleveland finished the game with 129 yards rushing and two touchdowns and also completed six of seven passes for 81 yards and one touchdown.
"I ran hard and saw the holes, and made my cuts," Cleveland said. "We had fantastic blocking up front, the best we've had all year. I just found the holes and ran into the end zone."
Eudora's offensive line had a little different look as Colton Lynch played center and Matt Schultz played guard. Eudora also got solid performances from Dylan Litherland, Alex Cox and Jonathan Morrison.
Eudora football coach Gregg Webb was noticeably absent on the sideline during the game as he coached from the booth for first time in his career. Webb said it gave him a better view to see what the opposition was doing.
"I wanted to take the emotion out of the sideline and just kind of X and O," Webb said. "There are a couple of things that you could really see from up there that you couldn't see from down here."
On the ground Eudora's offense ran several misdirection plays that turned into positive yardage.
"They didn't have an answer for it," Cleveland said. "We ran hard, they (Paola) fell for it and we got the win."
Eudora's knack for making big plays at crucial times was a result of the Cardinals physically wearing down the Panthers.
"They got good kids and they are tough, physical kids and we just pounded them," Webb said. "And you could tell in the second half they had a hard time getting off the ball and blocking us and when our defense started you could almost see the game change where it was way harder for them to move the ball than it was for us. And you can kind of see that that was the turning point when our linebackers started making tackles."
It was the first game all season the Eudora defense allowed a point, but Eudora held Paola's talented running back Skylar Hawkins in check for the most part. Hawkins had 22 carries for 172 yards and scored three total touchdowns in the game, including a 60-yard touchdown run and an 81-yard kick off return for a score. But Eudora's defense stiffened when it had to.
"We kind of contained him for the most part," Webb said. "He's a really tough back. They're a good football team."
With the win, Eudora notched its third consecutive victory on the road. Next up for the Cardinals (4-0) will be a homecoming game against Louisburg at 7 p.m. Friday at Laws Field.