Momentum swings to Sumner late,
EHS

girls fall 41-33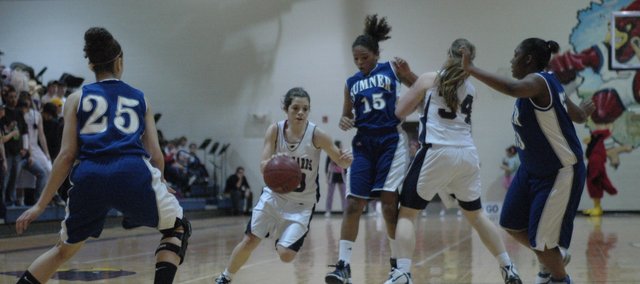 Every time the Eudora girls basketball team seemed to gain a little momentum, Sumner Academy took it right back.
Trailing by 14 to start the fourth quarter, the Cardinals chipped the deficit down to 10. But Sumner answered with a quick run and built its lead back to 14. And the Sabres held on late and beat the Cardinals, 41-33, Monday at Eudora.
The pivotal play came when Eudora had trimmed the lead to 10 with 4:44 to play after Sydney Schmille hit a free throw. But Sumner's Alexandria Blaurock hit a jumper from the right corner and was fouled on the play. She missed the free throw, but the Sabres got the rebound and scored, pushing the lead to 39-25 with 4:10 to play.
"That was kind of the swing," coach Todd Cossman said. "It really hurt our momentum."
While Sumner was a little more athletic than the Cardinals, Eudora was active on the boards and defensive end throughout.
"That's a good team," Cossman said. "And they've played some really tough competition. A lot of their losses are to 5A and 6A schools. It came down to rebounds."
Eudora was out-rebounded by just six, but Sumner was active on offensive glass and scored easy shots from inside.
"I thought that was the difference," Cossman said. "They are a big athletic team, and their posts are athletic. And they pass in the interior pretty well, too. They had some good looks underneath."
The Cardinals, though, fought back and ended the game on a 7-2 run. Eudora also took care of the basketball for the most part and played solid defense, especially on the perimeter. Senior Hannah Kouri had four points and four steals in the game.
"Defense is my main thing because if you play defense, you can get it on offense," Kouri said. "And if you steal it, then it's going to turnover to your ball, and you're going to get more chances on offense. And coach told me that I'm a defensive player, and he doesn't care if I score on offense or not. I just try to be a defensive player all the way through."
Cossman said Eudora's defensive pressure has been a positive all season, but the team's transition defense needs to get better.
"I think our perimeter defense has been good all year," Cossman said. "Our problem for the most part is we give up easy baskets off our turnovers. So I thought we did a better job today, and that's why it stayed close for most of the game."
Evan Folks led the team with nine points, Schmille added seven, and Jennifer Bowser and Katie Slavin scored five apiece to lead Eudora in scoring. And while Eudora didn't win the game, there was improvement.
"I thought it was a positive game," Cossman said. "I thought we improved and that's the biggest thing. And we'll be ready to go on Friday against Louisburg."