Wrestlers place seventh at Baldwin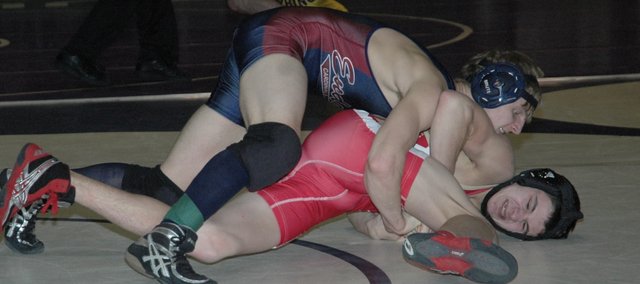 The Eudora wrestlers had plenty of chances to become acclimated to state championship-level competition Saturday at the Baldwin Invitational.
Jason Tharp's team wrestled against a bevy of ranked athletes, and came out with a seventh-place finish.
Abilene, which is ranked No. 4 in Class 4A, was crowned champions with Oak Park High from Missouri, finished second.
"We went in there and everyone wrestled hard all day," Tharp said. "There were a few matches that were tight that we didn't win that perhaps we should have. And then there were a few that we won that we probably shouldn't have. So overall it went pretty good."
The competition, which serves as a warm up for the upcoming league and regional tournaments, was a good indicator of what the Cardinals can expect during the final few weeks of the season.
"Oak Park is always an unbelievable team," Tharp said. "Abilene is No. 4, Prairie View is ranked, Baldwin is having a great year, Spring Hill is having a good year. I could go on. It was a really solid tournament. Probably the third toughest on our schedule behind Basehor-Linwood and our home tournament."
Tim Wright starred for the Cardinals, as he notched a silver medal in the 125-pound weight class.
Wright went 4-0 in his pool with his only loss coming in the title match against Oak Park's Cody Brewer, who is a two-time state champion.
Dalton Hladky and Boomer Mays earned fourth place-finishes in their respective weight classes to round out Eudora's top finishers.
"Dalton had a great day," Tharp said. "Boomer got injured in the tournament, lost a couple matches but worked the whole tournament with one arm. He pulled a muscle in his back, but it's nothing too serious. We'll take a few days to get him all healed up before league and regionals."
The Cardinals will battle in a triangular against De Soto and Anderson County Thursday at Garnett.
"Then we'll have the weekend off, which is a much-needed break," Tharp said. "We'll get rejuvenated for the final push."