Choir builds sets for musical after funding decreases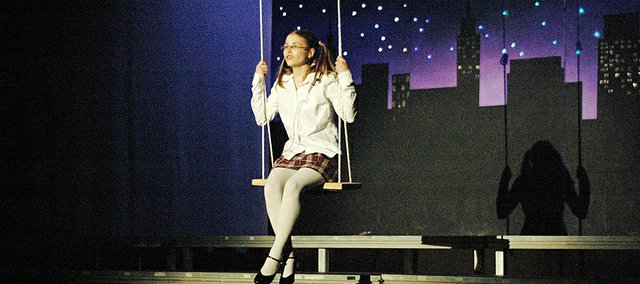 Art is imitating life for students and faculty involved in Eudora High School's spring musical, "Songs for a New World."
The musical consists of a series of vignettes wherein characters can either choose the path of least resistance or take a difficult but intrinsically gratifying path.
As the Eudora USD 491's budget has gradually tightened, little to no funding has been made available for the EHS spring musical. EHS Choir director Angela Yarnell and her students could have simply performed in front of a bland backdrop provided on the Eudora Middle School auditorium's stage.
Instead, Yarnell and the students added at least five hours each building sets in addition to the they time spent rehearsing.
"We are trying to recognize how talented the kids are and that they deserve to have a show regardless of what can be paid for," Yarnell said.
The students have worked especially hard during the last four weeks, when they constructed the sets after school, work, athletics and other activities.
"I have never worked on a set before," said senior Abigail Mott, who will perform in her third school musical. "This is the most excited I've been for a performance because everyone has done so much and you can see it. It looks awesome."
The ownership the students — and some parents — had in making the musical happen give every little part of the set more meaning.
"My dad came in and basically made my set," freshman Biz Young said. "It's just a swing, but it's special because you know the person who did it instead of having the set just come in and you don't know (who made it)."
Yarnell also said the extra time spent creating sets brought her closer with the students.
"We've had a lot of bonding time because we're up there building, and we've had time to chat in ways that we normally wouldn't," Yarnell said.
In turn, the choir has become a tighter group.
"I've gotten to know some people that I wasn't close to, but not because of the musical part," junior Sara Hoppe said. "It's because we were working together. "
The closeness is something that shouldn't be minimized, as Mott noted there are students from various social circles participating in the performance.
Local businesses also have purchased "break-a-leg" ads to sponsor the performance.
"It is the community pulling together," Yarnell said. "People who I've never even met before are showing up and saying, 'what do I need to do?' or 'what tools can I go home and get?' And it's more meaningful because it's not staff driven, it's student driven."

Performances of "Songs for a New World" will be at 7:30 p.m. Thursday and Saturday in the EMS auditorium.
Tickets are $5 for adults and $3 for students. Students with a student ID will get in free.