Boys get defensive, top Baldwin 43-34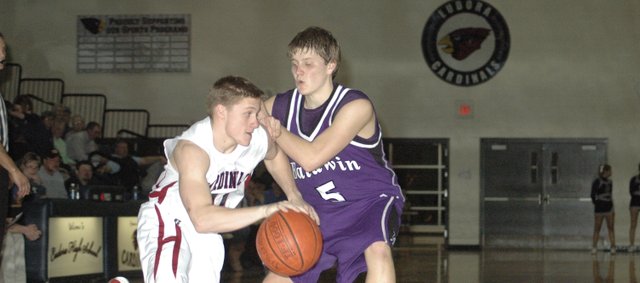 Photo Gallery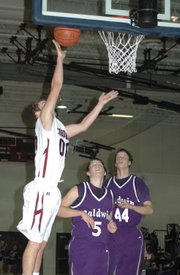 EHS boys vs. Baldwin
When the Eudora Cardinals finally started to rebound on the defensive end and not give up easy putbacks for Baldwin, the scoreboard soon swung in the Cardinals' favor.
In the first half, Baldwin scored half of its 20 points on five offensive rebounds. But Eudora's pressure defense during the final three quarters proved to be too much for the Bulldogs, and the Cardinals beat their rival 43-34 Monday in Eudora.
"We gave them half their points on offensive rebounds in the first half, which killed us because we were playing pretty good defense until the second-chance shots," coach Kyle Deterding said. "In the second half, we did a better job even though they still got a couple more."
Facing Baldwin's 6-foot-9 tower Justin Vander Tuig, who stood five inches taller than Eudora's tallest player, Eudora opted to crowd the perimeter in the half-court and press in back-court.
The strategy worked well, especially in the second half, as Eudora's Hawley Montgomery, Drew Noble and Coulter Vestal crashed the boards against Vander Tuig in the paint.
"We knew once they got into the half-court set, they'd throw it up to the big guys, and we're in big trouble," Deterding said. "So we had to try to extend them and make their guards make some decisions because once they get to half court, it's hard to guard those big (guys)."
At 6-4, Montgomery logged the most time guarding Vander Tuig, who led Baldwin with 12 points, but had just four in the second half.
"We can't really practice 6-9, so we just did what we had to do," Montgomery said. "I love guarding the tall guys."
Eudora led 28-20 at the break, but Baldwin started the second half on a quick 5-0 run and eventually cut the lead to three at the end of the third quarter. But the Eudora defense held the Bulldogs to just one field goal in the fourth quarter – a three-pointer by Zach Wright that cut the Eudora lead to four at 38-34 with 5:42 to play.
Baldwin didn't score again, and Eudora seniors Connor Scott and Evan Cleveland combined to make five free throws down the stretch for the Cardinals.
Justin Ballock scored 17 points and Brian Katzfey added eight to lead Eudora in scoring. Katzfey's two consecutive threes in the first quarter, and a layup by Ballock pushed Eudora in front at 12-9 late in the first quarter, and the Cardinals never trailed again.
"We came off two back-to-back losses, so we knew we had to get this one," Katzfey said. "It meant a lot because of sub-state implications."
After losing its last two games against Paola and Louisburg by a combined three points, the win marked the Cardinals' first in league play.
"There are a lot of teams in our league that are really equal," Deterding said. "And so anytime you can get a win against a league foe, you'll take it because everybody is pretty competitive and everybody is pretty good."
Eudora (9-6) will play Gardner Friday at Eudora.