Sluggish at the start
Girls can't recover from early deficit, fall 51-31 to
BHS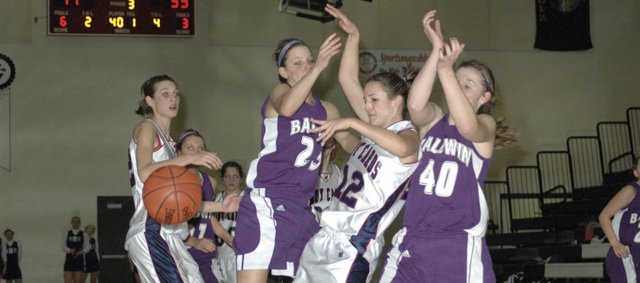 Once again the effort was there for the Eudora girls basketball team. But Eudora's effort didn't translate to a win on the scoreboard.
Against rival Baldwin Tuesday in Eudora, the Cardinals scored plenty of hustle points, but didn't score a point during the first quarter, and they ultimately lost 51-31.
"The first quarter we came out pretty flat and we can't do that," coach Todd Cossman said. "We got down 9-0 and dug ourselves a big hole. And we just can't play behind like that."
While Eudora struggled in the first quarter, it found offensive success in the second quarter. Facing a man-to-man Baldwin press, the Cardinals attacked the basket and Hannah Kouri and Evan Folks both scored layups.
But Eudora had another cold shooting night and couldn't hang with the Bulldogs.
"We got a few layups, and we got some other shots, and we just didn't put them down," Cossman said. "That really was a big factor in the outcome of the game."
Foul trouble also hurt the Cardinals. Baldwin made 21-of-34 free throws on the night.
"We sent them to the foul line too much," Cossman said.
Eudora played with more intensity in the second half and continued to battle on the boards as Victoria Lehmann, Shea Lounsbury and Molly Brunton were active on the glass. Lehmann pulled down 11 rebounds in the game.
"I thought we really battled well on the boards, we just couldn't hit shots," Cossman said. "You can't win games scoring 31 points. So we've got to find a way to manufacture points either with our defense or on offensive rebounds or whatever. We've got to put the ball in the basket."
Folks led Eudora with 10 points and hit two three-pointers. Lounsbury scored seven, Kouri and Lehmann added four points apiece, and Sydney Schmille and Jennifer Bowser scored three each for the Cardinals.
The loss marked Eudora's fifth in a row. And despite the losing skid, Brunton said it was important to stay positive.
"It's tough when you're on a losing streak," Brunton said. "But keep the effort up, and keep our team encouraged. It stinks to lose, but you roll with the punches."
Eudora will play Gardner Friday at Eudora.
"We're going to slow the game down," Cossman said. "They are really good, so we're going to have to bring our "A" effort if we're going to stick with them and give ourselves a chance to win."
Eudora will also play Tuesday at St. James.
Score by quarters
1 2 3 4 F
Baldwin 9 14 12 16 51
Eudora 0 10 8 13 31
Scoring leaders:
Baldwin: Connor Twombly 8, Rachael Enick 2, Allison Howard 11, Ramie Burkhart 6, Myranda Behrens 5, Katie Brecheisen 5, Kailyn Smith 7, Taylor Brown 2, Katie Kehl 3, Monica Howard 2.
Eudora: Hannah Kouri 4, Jennifer Bowser 3, Evan Folks 10, Sydney Schmille 3, Shea Lounsbury 7, Victoria Lehmann 4.