Two of the best
Mays, Molby win league titles, Cardinals finish second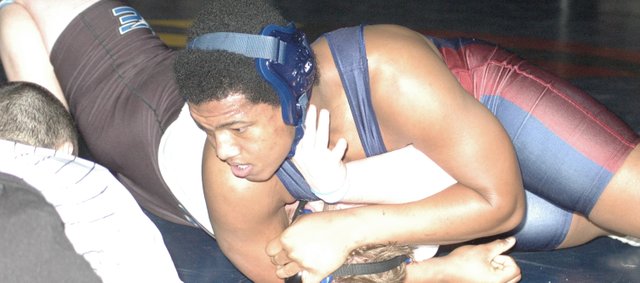 Photo Gallery
EHS Frontier League Tournament
The loudest cheers came during the last two matches of the Frontier League Tournament Saturday in Eudora, when juniors Boomer Mays and Caleb Clayton-Molby were battling for league titles.
As Mays battled for his second straight league title in the 215-pound weight class, and Molby battled for his first league title in the 285-pound weight class, the cheers grew loudest when the clock hit zeros, and both Cardinal wrestlers won league championships. Eudora also finished second to Gardner in the eight-team tournament.
"We really wrestled pretty well," coach Jason Tharp said. "It's starting to come together for us. We've got some guys who are figuring it out, and we've just got to continue that on to next week."
Mays, the No.1 seed, won his final match, 7-2. Mays scored on two two-point takedowns in the second round and held on in the third round for the victory.

"Once I got him to the second round, I knew I could take control of the match, so that's what I did," Mays said. "I started taking control and hitting my shots."
And Molby, the No. 2 seed, won his match 13-8. Molby, who weighs about 200 pounds, is undersized in the heavyweight category, but uses his speed and quickness to his advantage.
"It's more just being quick because they are a lot heavier, and they are going to be slower and throw a lot more," Molby said. "So I kind of have to get around them and shoot more, stay low. You just have to have good balance because they have no balance at all."
Last year at 189, Molby did not compete at the league tournament because of a skin infection. And this year, he wrestled most of the season at heavyweight.
"He's giving up a lot of weight in there, but he's so athletic and so strong that he's able to compete with those guys without a problem." Tharp said. "And he has a shot of doing really well."
Eudora had wrestlers place in the top four in 12 of the 14 weight classes, and had four in the finals. Along with Mays and Molby, Tim Wright (125) and
Spencer Board (135) reached the finals and both placed second.
Eudora's Caden Lynch (112), Thomas McLees (119), Dalton Hladky (140), Tyler Crowe (152) and Lucas Becker (171) placed third in their respective weight classes, and Thaius Boyd (130) and Darren Nabus (145) placed fourth.
The successful showing at league has Tharp eager for this weekend's regional tournament in De Soto. Last year, Eudora had four wrestlers qualify for the state tournament, and the Cardinals hope to increase that total this year.
"All of these things are warm ups until next week." Tharp said. "If you don't come out ready to perform next week, it's done. But we're going to have a solid week of practice and try to get their minds right and ready to come out and compete next week."