Eudora churches give and receive while helping the needy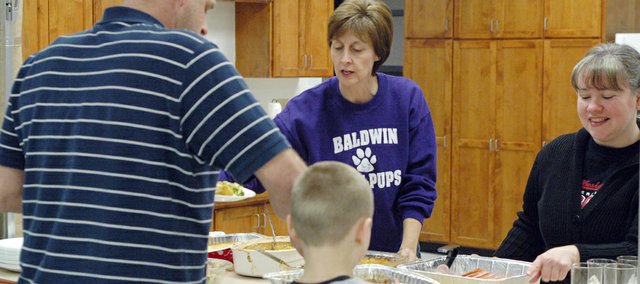 While sitting in the lobby of the Eudora United Methodist Church, Brian and Rochelle Sexton run down the list of events in which their children participate.
Football, music recitals, soccer, wrestling, bowling and so on.

These all seem like fairly typical activities for families who have children in high school, middle school and elementary school.
For the Sextons and their children, these activities offer a much-needed sense of regularity and are a luxury made possible by the Sexton's inclusion in Family Promise of Lawrence.
"We really didn't come in (to the program) with any expectations other than we wanted stability and normalcy for the kids," said Rochelle, 36. "Our one focus was that if we did this program, we wouldn't have to change our routine with the kids."
Family Promise provides homeless families food and shelter with the intent of helping them achieve stability and independence.
Families stay at area churches — as they did last week at EUMC — and the congregations of those churches provide them with breakfast and dinner. During the day, the children attend school and their parents search for employment.
Family members must not be dealing with substance abuse problems or untreated mental illness, nor can they have a history of violent or sexual crimes.
Family Promise executive director Valerie Miller-Coleman said theprogram counted among its volunteers 33 Douglas County congregations and said it sought to help a somewhat obscure group of homeless people.
"The question of homelessness is complex and it's hard for people to see past stereotypes," Miller-Coleman said. "The reality is 40 percent of homeless people are families and 30 percent are children."
She said most of the families in the program were working paycheck-to-paycheck and then someone got laid off or medical bills began to mount.
Such is the case with the Sextons. Rochelle lost her job as a registered nurse, and Brian, 42, lost work as a drywaller when construction spiraled downward with the recession. The family, which includes six children between the ages of 7 and 16, has been part of the program since August.
"I have a degree, Brian has a trade, and we're still struggling got find something that's stable," Rochelle said.
While the job market is bleak, attending the Saturday birthday party of the daughter of a program graduate gave the Sextons hope.
"That brought the light back," Rochelle said. "It's nice to see that end result — she was on her own and had all of her own stuff."
The kindness of churches, such as those in Eudora, also has restored the couple's faith in other people.
"It's mind blowing, the amount of care that comes from each congregation that you go to — the amount of time and effort that they take out of their lives to make us feel comfortable." Brian said.
"And loved," chimed in Rochelle. "We have walked away from each church with a friend that I know we'll keep in touch with."
The couple said they planned to volunteer once they graduated from the program.
The week has not only been a blessing to the families staying at EUMC, but also those who have volunteered to help them.
The Rev. Michael Tomson-DeGreeff of EUMC said the church body had been considering working with Family Promise since moving into its new building in 2007. But before they could vote on it, the church suffered extensive damage from a fire in its sanctuary in November 2008.
Once the congregation returned to the building in July 2009, they voted to join the program.
This was the first week EUMC had hosted a family, and members of the congregation have said it was a step toward how they had intended their building be used.
"One of the things people kept saying was, 'It feels good to be thinking about someone else and actually using the building to do ministry,'" Tomson-DeGreeff said.
Other churches in the Eudora Ministerial Alliance — which includes Hesper Friends Church, Eudora Baptist Church, EUMC, St. Paul United Church of Christ, Holy Family Catholic Church and Eudora Assembly of God — also have helped provide food, volunteers and funding to the program this week.
"Valerie (Miller-Coleman) likes to say, 'This is like taking a mission trip without leaving home,' and that's exactly what it is," Tomson-DeGreeff said. "It opens people's eyes to the fact that there are people around us who are really hurting."
The Rev. Barbara Norris of St. Paul United Church of Christ said the work of the churches in the ministerial alliance was a natural response to the issue of homelessness.
"Many of us are enormously blessed and can rely upon our families," Norris said. "What Family Promise is about is relying on our spiritual families, and that crosses denominations."
For more information on Family Promise, go to www.lawrencefamilypromise.org.