USD

491 mulling deep cuts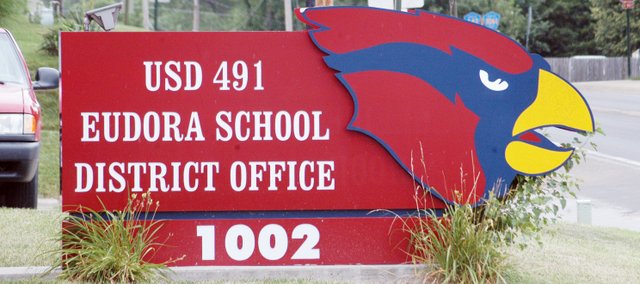 Facing a $410,000 budget deficit, Eudora USD 491 Board of Education discussed at a meeting Thursday a myriad of possible cuts.
The district has seen base state aid per pupil decrease by about $400 since the start of the 2009 schoolyear.
New facilities money, which the district received because of the new elementary school, accounts for about $870,000 of the district's budget.
However, those funds will be decreased sharply in the fiscal year 2012 because the only new facilities will consist of three new classrooms at the high school and five new classrooms at the Eudora De Soto Technical Education Center.
The district could see a $50 increase in base state aid per pupil if the Legislature approves the governor's proposed increase in sales tax and cigarette tax.
On the other hand, an additional $286 cut to base state aid per pupil is on the table and it would mean a deficit of $929,000.
Superintendent of Schools Don Grosdidier added he was worried about an exchange he had with State Rep. Anthony Brown.
Grosdidier told the board Brown favored SB 385, which would allow school districts to increase the local option budget via a vote from district residents.
Grosdidier felt the bill would put pressure on school boards to raise local taxes and said that responsibility should lie with the state, not school boards.
He also said the bill favors school districts with more property wealth.
"I'm a firm believer in equity across school districts," Grosdidier said. "The quality of a student's education should not be based on their Zip Code."
As Grosdidier discussed possible cuts, he noted that the order in which each cut was discussed was not because the district favored one more than another.
"This is not a priority list," he said.
Possible cuts were:
• Temporary closing of Eudora West Childhood and Family Center.
In this scenario, Eudora Elementary School would house the 200 or so students at EWCFC. This would put the school at about 80 percent capacity.
Taking into account personnel and operations savings as well as maintenance costs, this option would provide a savings of about $283,000.
• Go to half-day kindergarten.
The state only pays for half a day of instruction for kindergartners, so the district pays for the other half.
This would cut three teaching positions and lead to four instructors teaching eight half-day classes and save about $166,000.
Board member Eric Votaw said cuts at the kindergarten level were especially troubling because early education is one of the district's core values.
Grosdidier agreed with Votaw, but said that all of the cuts that affected the classroom went against the district's core values and that none of the options were attractive.
• Cut the Parents as Teachers program, which is a national organization for families with children between the ages of birth to 3 years old. Its purpose is to educate parents about their child's intellectual, social, emotional and motor skill development.
It is offered free through the Eudora USD 491.
Cutting the program would save the district $11,300.
• Close Nottingham Community Learning Center.
Nottingham currently houses technical education classes, a Bert Nash satellite office and the community learning program.
The tech classes will move to new facilities this summer and much of the buildings use is for the public. The building would not be totally closed, as it houses the district's technology hub.
This option would save about $28,000.
• Eliminate positions at Eudora Middle School.
The positions that could be cut are three reading positions, a half-time math skills instructor and a library aid.
These cuts would mean a savings of about $173,000
• Reduce the number of administrators at Eudora High School and Eudora De Soto Technical Education Center from three to two through reassignment of duties.
And at EDTEC, eliminate two full-time positions for unspecified programs with low attendance and eliminate two part-time positions in culinary arts and health careers.
These cuts would mean a savings of $187,000.
• Reduce the number of school days by adding time to the duration of each school day.
No specific number of days was mentioned, but Grosdidier gave the example of how cutting 10 days possibly could save about $100,000.
• Start charging students for participation in extra curricular activities.
No specific amount was talked about, but the district spends about $110,000 on such activities at EMS and about $400,000 on activities at EHS.
• Outsource janitorial services for a savings of about $33,000.
• Look into cutting transportation costs. The state only funds transportation of students who live at least 2.5 miles away from school. Grosdidier said only about 160 students of the district's more than 1,500 live outside that distance.
As the budget picture becomes clearer, Grosdidier said he hoped to have a hierarchy of cuts for the board, with cuts likely being made at the April meeting.
In other actions, the board:
• Chose board members Joe Pyle, Eric Votaw and Mike Kelso to review candidates for the open board positions and bring their recommendations back to the March board meeting.
Previous reports stated all interviews would have to be done in public meetings. However, after conferring with its attorney, the district was told it was allowed to screen candidates in private meetings.
• Approved use of district facilities for the Eudora Amateur Baseball and Softball Association, Biking Across Kansas and the Eudora Junior Cardinal Wrestling Club.