All set for state
Seven Cardinals qualify for state tournament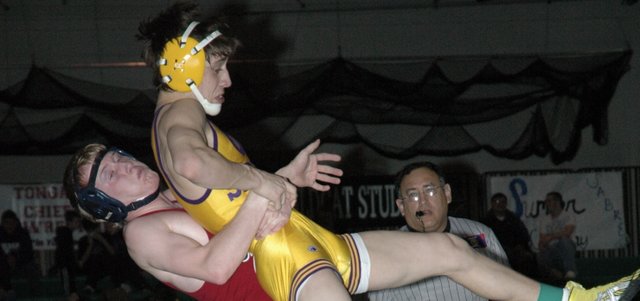 Photo Gallery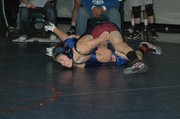 EHS regional wrestling
The Eudora wrestling team is peaking at just the right time. And that has coach Jason Tharp excited about this weekend's Class 4A State Wrestling Tournament in Salina.
Seven Cardinal wrestlers earned a spot in this weekend's tournament after placing in the top four Saturday at regionals in De Soto.
"There are some guys with some real potential going into next weekend," said Tharp, who also was named the regional Coach of the Year.
Leading the way for the Cardinals were Thomas McLees and Caleb Clayton-Molby, who both won regional championships. McLees took home the first-place medal in the 119-pound weight class, and Molby the 285-pound weight class.
Tyler Crowe (152) and Tim Wright (125) finished second, Dalton Hladky (140) and Boomer Mays (215) placed third, and Caden Lynch (112) placed fourth.
Eudora finished second in team standings to St. James. The Thunder scored 158 points, and the Cardinals tallied 157.50. Eudora also was open at 189.
"There were a million different things that could have went our way to win it," Tharp said. "But they (St. James) wrestled great. And the effort we gave was the best effort of the year, and every single kid.
"That's the great thing when you look at wrestling as a team sport. Even those guys who didn't qualify, they still did a lot to earn us that regional runner up because they went in there and won some matches. It was a good team effort."
Out of the seven qualifiers, McLees, Molby and Mays will be returning to the state tournament, after qualifying last year. And for Crowe, Hladky, Lynch and Wright, it will be their first trip to the tournament.
Crowe said he didn't think he'd be too nervous when he steps onto the mat Friday at state.
"I'm actually pretty excited because it's time. And there's no holding back," he said.
While experience will definitely help, the Cardinals also have wrestled a tough schedule, especially the last month of the season.
"Our schedule really benefits us this time of year because we wrestle a lot of these teams and we go to some tough tournaments," Tharp said. "So these guys, we're going go try to get across to them this week that they've wrestled tough competition. This is no different and you have the potential to do well. The kids who really struggle are the ones who are shell shocked when they walk in and can't really recover until the second or third round, and by then it's too late."
The tournament will begin at 10 a.m. Friday at the Bicentennial Center in Salina and will conclude on Saturday.

"They've got the best of the best now," Tharp said. "Every match is going to be a grind. Whether it's your first round, or your first round on the backside, every match is going to be tough."