Up for the challenge
Cardinals open league play against rival Baldwin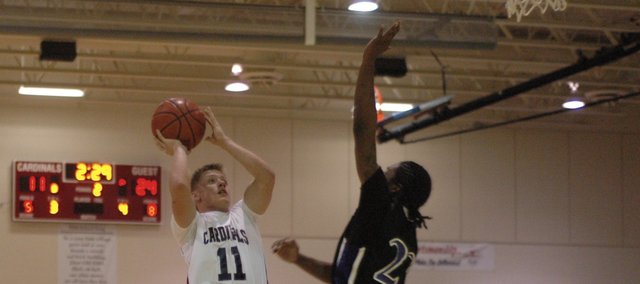 The Eudora boys basketball team will have to play big to beat rival Baldwin Friday at Eudora.
The visiting Bulldogs are much taller than the Cardinals, as they have three players 6-foot-5 or taller.
"It'll be fun to play against them again," coach Kyle Deterding said. "They score a lot of points inside, and that'll be something we haven't faced a lot this year. We haven't faced that many big guys, so that'll be a different challenge for us. But we'll be excited to see what happens."
Eudora's post players Drew Noble, Coulter Vestal, Joel Lauer and Hawley Montgomery stand about 6-foot-3, and while they will give up a few inches to the Bulldog interior, they are athletic. Deterding said the Cardinals would have to be active in the paint.

"You work harder than they do, otherwise you're in trouble," Deterding said. "So hopefully we work hard and limit their touches and get things done because if they get a lot of touches inside, then we're in trouble."
Deterding said the Cardinals would possibly look to get the Bulldogs in foul trouble early.
"It'd be nice to get those guys on the bench, otherwise they'll block a lot of shots," Deterding said. "But you just about have to go after them and make them play. And you've got to shoot shots that you think you're going to make.
"If you start shooting shots to avoid getting blocked, then you're not going to make them anyway. So you've just got to go at them and play and see what happens."
While Eudora (4-2) isn't as tall as Baldwin, the Cardinals might have the edge on the perimeter.
Eudora's senior guards Justin Ballock, Brian Katzfey, Evan Cleveland, Matt Jump and Connor Scott combine to give the Cardinals the ability to knock down shots from deep.
Ballock is the team's leading scorer (17 ppg) and rebounder (6 rpg) and Cleveland chips in five assists per contest. And down low, Vestal and Noble combine for 15 points and 10 rebounds a game.
Scott said the team usually played with a little more intensity against its rival.
"I think we take it harder to them because we know they're our rivals and we pretty much have to win," Scott said. "We see it as that."
The game also will be the Cardinals first league game of the year.
"I think everybody in the league is either as good or better than last year," Deterding said.

Eudora also will play Wellsville and De Soto next week before competing at the Tonganoxie Invitational in two weeks.
"The schedule is going to get harder and harder so we'll learn a lot," Deterding said. "It'll be a fun rest of the way."