Wrestlers ready to rumble at Ottawa, Bonner Springs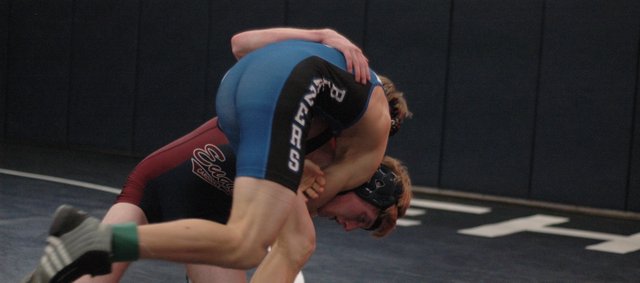 For the most part, the Eudora wrestling team accomplished what coach Jason Tharp wanted over break.
"They did a good job managing their weight over break, which is the main thing," Tharp said. "Staying in shape and managing your weight that's key, and that's what we did."
Tharp added that while it was nice for everyone to get away for a few days over the holiday, his team was looking forward to getting back to work.
"It's nice to get back in a routine that we're used to," Tharp said. "We have so many kids and it's nice for them to be with their families for a few days. And so now they're able to get back to work and accomplish some goals they set out."
The Cardinals will take to the mat in their first competition of 2010 against Gardner and Ottawa Thursday at Ottawa. Eudora will follow that meet up with a trip Saturday to the Bonner Springs Tournament.
Tharp said that despite the quick turnaround, the team would be ready for both battles.
"There won't be too many guys get switched around, which is a little tough on them to make weight on Thursday then turn right back around and make weight Saturday," Tharp said. "But most of our guys have gotten certified that they get the extra two pounds now, which helps a lot. And they're controlling their weight a little bit now. And they've been doing it long enough that they get it."
Tharp said the 12-team tournament at Bonner Springs would be a difficult test for the Cardinals, but the competition likely wouldn't be as fierce as it was in recent weeks.
"There are some good teams there, and we'll be tested," Tharp said. "There will be some good teams, but it's not a huge meat grinder like it was at our tournament and at Emporia."
Eudora will compete at the Basehor-Linwood tourney next weekend, and with only about six weeks remaining in the season, Tharp said now was the time for his team to polish their technique.
"Now we're in the mode where you try to get them to refine their technique and get better every week," Tharp said. "And hopefully by the time we get to regionals we're wrestling our best. We've got the lineup, except for a few spots, finalized. So we're feeling pretty good about going into the second half of the season."
More like this story