Neighbors: Joel Lauer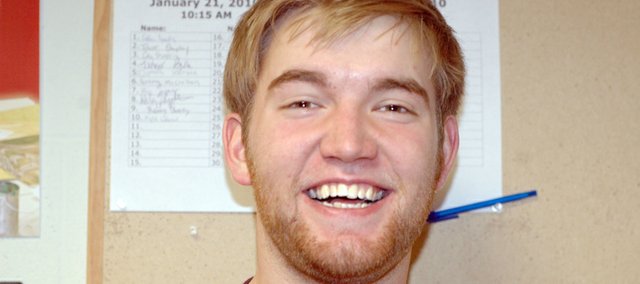 Senior, Eudora High School
Q: How long have you lived in Eudora and what brought you here?
A: I've lived here for four years.
Q: What is the best advice you've ever been given?
A: My grandma told me it doesn't matter how much talent you have as long as you just keep trying.
Q: What is the biggest risk you've ever taken?
A: I can't think of any risks I've taken
Q: What are three things people should know about you?
A: I'm a little bit different, I'm not as scary as I look and I listen to more than just music with screaming.
Q: When you were a child, what did you want to be when you grew up?
A: It really depends on my fascination at the time. It was "Beetleborgs" when I was three, and then a power ranger, and then I really wanted to be a Pokemon trainer when I was five.
Q: What is your ideal vacation?
A: Maybe someplace like Iceland with a couple of friends
Favorite things
Song: Today, it's "Stab City" by As Tall as Lions
Favorite movie: As of right now, "Fantastic Mr. Fox" or "The Departed"
Book: "Revolutions on Canvas: Poetry from the Indie Music Scene"
Food: Anything at Pepperjax Grill, in general