Pump up the volume: New Kansas Turnpike interchange to bring more traffic to Eudora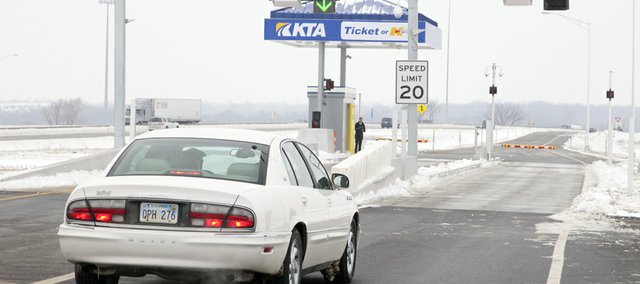 The Kansas Turnpike's Tonganoxie/Eudora interchange opened last week, bringing to Eudora not only increased traffic, but increased concerns.
The interchange allows drivers to exit Interstate 70 and head south on Leavenworth County Road 1 — which turns into Main Street in Eudora — and then connect to Kansas Highway 10.
A report presented in February to the Douglas County Planning Commission and Eudora city officials stated that traffic volumes would be greater than the streets could handle by about 2023.
Eudora city leaders conceived of the extra traffic as a possible boon to businesses in the downtown district, but increased traffic in the form large trucks is a worry to some.
"As with any traffic study, it's a prediction, and it's something we'll keep our eyes on," Douglas County Public Works Director Keith Browning said. "The number of big trucks is really the issue that what we'll need to watch."
Eudora Police Chief Greg Dahlem said the trucks would present a safety hazard on Main Street, where visibility was low because of a hill at the intersection of Main and Seventh streets.
"I feel we're going to see an increase in truck traffic," Dahlem said. "My concern is somebody backing out of one of the parking stalls and a truck not being able to get stopped in time."
Browning surmised that truck drivers looking to save time wouldn't want to go through a town and cross the twosets of railroad tracks to the north of Eudora.
Truck traffic could increase the deterioration of roads in the newly improved downtown district. However, Browning said that probably wouldn't be a concern.
"Unless the number of trucks is really significant, I don't believe we're worried about increased traffic deteriorating the improvements," he said.
Eudora City Councilman Bill Whitten said if the roads did begin to deteriorate the street, the council would explore ways to prevent it from getting worse.
"We knew that it (increased traffic) could be a hindrance, but I think the traffic counts coming down Main Street will be good for businesses," Whitten said. "That could revitalize our downtown."
It is estimated average daily traffic on Main Street will reach 5,000 vehicles within about two years. The ADT could climb to about 8,200 by 2030, which would be comparable to the current levels in the area of Church and 14th streets.
About 60 percent of those 8,200 vehicles would be "through trips."
Furthermore, the level of service at the intersection of 10th and Main streets during peak times is graded at a B. With the interchange, it is graded a C. In 2030, it would be graded an F.
For businesses in the area, the increased traffic presents more positives than negatives.
Tom Pyle, owner of Pyle Meat Co. — which is located in the downtown district — was mayor of Eudora during the presentation of the report. He said he already was seeing more new customers since Leavenworth CR 1 opened in October, and he was guardedly optimistic about what the future holds.
"Yes, it will mean more traffic, but I'm looking at it strictly as being more positive," Pyle said. "I see it as a boon for businesses, though I know it won't be overnight."
BG Consultants, who wrote the report, proposed three alternate alignments that would allow traffic to bypass Main Street and CR 1061. The options detailed in the report were an alignment to the west that would connect to K-10 using Winchester Road at a cost of $15 million, an alignment to the east that would connect to K-10 using the Douglas County Road 442 interchange at a cost of $11 million and a regional alignment that would connect at the east and the west ends of Eudora at a cost of about $165 million.
There is no money for any of those options and no agency is currently developing plans.
But Whitten views the fact that the concern was on the radar at all to be a positive.
Eudora City Administrator John Harrenstein said he hoped to schedule a meeting with Browning within the next two months, noting the importance of citizen safety.
"It's accurate to say the interchange is a huge positive for Eudora and it also presents some traffic issues," he said. "The mayor and council have been very clear with me that we need to make sure we keep our citizens safe on Main Street, and we're going to be monitoring the traffic."