Three in the top four
Trio of Cardinals place at Bonner Springs tourney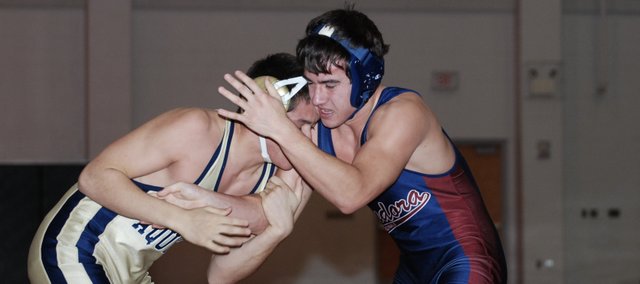 Even though the Eudora wrestling team faced a tougher field than what it anticipated, the Cardinals still placed three wrestlers Saturday at Bonner Springs.
But a little better showing in the consolation finals, and the Cardinals would have had seven wrestlers place and not just three. And the Cardinals would have improved on their ninth-place finish overall.
"We showed some good things," coach Jason Tharp said. "We were one round away from feeling pretty good about the tournament."
In the consolation finals, Eudora had seven matches but won just twice. That left a little sour taste in the coach's mouth, and Tharp left the gym feeling a little snake bitten.
"We were that close of getting the job done," he said.
Leading the Cardinals were freshman Caden Lynch, who finished second in the 112-pound weight class, senior Dalton Hladky placed third at 140 and junior Boomer Mays placed third at 215.
The Cardinals also received solid performances from junior Tyler Crowe (152) who fell just short of medaling once again.
"He's been right on the verge of getting a medal the past couple weeks," Tharp said. "And he's right on that threshold."
Junior Darren Nabus (145) competed in his first varsity action of the season and was one win a way form placing, and freshman Gabe Cleveland (171) picked up his first win in varsity action.
Because of the weather, a couple teams dropped out of the tournament and were replaced by powerhouses St. Thomas Aquinas and Gardner-Edgerton.

"With the teams that were already in there, and you get rid of some of the teams that were lesser, and then add those two, it makes it a tougher tournament," Tharp said. "But no excuses."
And the competition at this weekend's Basehor-Linwood Tournament won't be easy. More than 30 teams will compete in the two-day tournament.
"It will be interesting to see how these guys respond," Tharp said. "I think they have the ability to do really well. We just have to get our mojo back a little bit."
After the tournament in Basehor, Eudora will also travel Jan. 23 and compete in the Paola Invitational.
More like this story