Hand of providence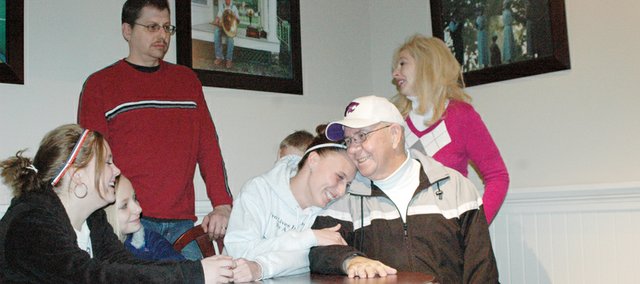 Jack Freeman can't get enough of the Christmas gift his daughter-in-law Amanda Trober gave him.
After enduring two years of kidney dialysis as a result of polycystic kidney disease — a hereditary condition causing the kidneys to become enlarged — Jack, 63, received a kidney from Trober, 28, on Dec. 16.
"On Christmas morning, I called her first thing and said 'Thank you for the Christmas present and the gift of life that you gave me,'" Freeman said.
Freeman found out about two-and-a-half years ago that he had polycystic kidney disease, and soon after went on a donor transplant list at Kansas University Medical Center.
Amanda began considering the donation about a year later, but she only told Jack's wife, Brenda.
"I've lost a lot of important people in my life, and there was absolutely nothing I could do about it," Trober said. "So, it was just something I thought about for a while and couldn't get it out of my head. But we didn't really let Jack know because we didn't want him to be disappointed (if she wasn't able to donate)."
Amanda went through a battery of tests, including what she called "the absolute best physical that I've ever had in my life," before finding out that she was a universal donor and could donate one of her kidneys.
Jack said he wasn't shocked to learn he had the disease because seven of his family members also had kidney transplants. But finding out Amanda was going to donate her kidney was overwhelming.
They were at a family gathering during the summer and Brenda and Amanda summoned Jack to the living room to give him the news. They were so emotional that just enough words were spoken to let him know the results of Amanda's tests.
"We all just sat there and cried," Brenda said.
Leading up to the surgery, Amanda's husband, Jerry, worried about Amanda.
"I realized the risk that comes with any surgery, and I was worried about her not being here for the kids," Jerry said.
Likewise, the couple's four children, Haley, Brooke, Logan and Jerralynn, also were concerned.
"It's nerve-wracking to know that your mom might not be there the next day," Brooke said.
But both Jerry and Amanda fared better than their doctors had imagined. Doctors told them the kidney literally started working when it was attached and it was a shorter surgery than expected.
"We had the doctors coming in to my room afterwards, and they kept talking about how great everything was working," Jack said.
In fact, everything has gone so well from start to finish the family said it was destiny for Amanda to be a part of Jack's life.
"There have been many times when I asked myself, 'Is this why my son chose her?'" Brenda said. "Sometimes you think it's just fate."
For both Amanda and Jack, the hardest part has been staying inside and not participating in various holiday activities.
"It's a small price for me to pay to improve his quality of life," Amanda said.
Although Jack and Amanda are both out of the hospital, they have about two weeks left for recovery and Jack will continue to be monitored by doctors during the next few months.
But they're getting by with assists from friends and family.
"It took a lot of help from my son, the kids and Amanda's mother running her daycare," Brenda noted. "There's just been a tremendous amount of help. It's incredible."