Two grapplers place at Bobcat classic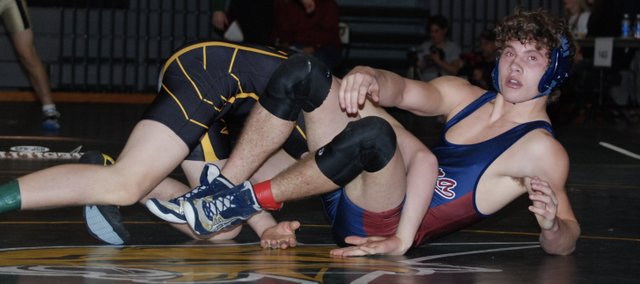 Caleb Clayton-Molby impressed in his heavyweight debut over the weekend at the Basehor-Linwood tournament, placing seventh in a challenging bracket.

Usually a 189-pounder, Molby was one of two Eudora medalists at the 30-team tournament.
"Molby wrestled really well," coach Jason Tharp said. "He was in a loaded bracket. He was facing a state champion, two state runners-up and two more state placers. For it being his first time at heavyweight, he did a really good job."
Molby entered the bracket as the No. 6 seed and was eventually eliminated after drawing Tank Burns — a state champion from Columbus — in the quarterfinals.
"To run into a kid like that in just the quarters, that shows you how strong the heavy bracket was. It was far and away the strongest at the tournament," Tharp said.
The other medalist for the Cardinals was Boomer Mays, who earned a fifth-place finish out of the 215-pound division.
Mays ran through the first few matches until he finally met his match against St. Thomas Aquinas' 215-pounder, who is the third-ranked wrestler in Kansas' 5A division.
"Boomer lost a tough, close match in the consolation semifinals and ended up wrestling in the five-six match," Tharp said. "He really came alive after he lost to the same kid from Junction City that he lost to in Emporia."
Another individual highlight for Tharp's squad was the performance of Lucas Becker at 160 pounds.
After beginning the year 0-7, Becker rattled off three key wins in what Tharp called the most competitive tournament of the season.
"He wrestled at 171 for a while, and now he finally went down to 160 where I think he feels more comfortable," he said. "Everything just fell together for him, it clicked. He almost placed."
From a team perspective Tharp said the squad wrestled much better than in recent weeks. It finished No. 20, but overall the Cardinals were more competitive.
Eudora also beat Ottawa 48-30 Tuesday night. The Cardinals will travel Saturday to the Paola Tournament.