Cuts force
USD

491 to adjust budget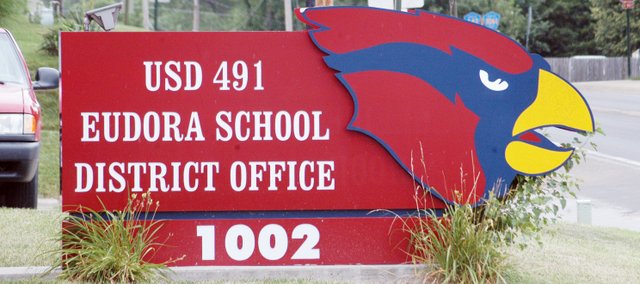 The Eudora USD 491 Board of Education last Thursday began the arduous process of making cuts to this year's budget by putting a moratorium on all field trips that aren't tied to the curriculum.
Each field trip costs about $1,200.
The board was told the cut would not affect the senior trip because students independently fund it.
Reward-based field trips will be replaced with parties, and the Eudora Parent Teacher Organization would continue to help fund activities that are not merit based.
The board also eliminated Eudora High School's student custodian positions, which will save the district about $6,000.
Superintendent of Schools Don Grosdidier said the cuts were necessary to put the district in a better financial position.
Recent cuts at the state level will mean a $355,511 decrease in the district's funding.
Furthermore, Grosdidier told the board another $286 cut to base state aid per pupil was possible as the Legislature dealt with a recession-related state revenue shortfall. If so, such a cut would cost the district another $800,000.
Previous adjustments to line items including textbooks and teaching and administrative supplies were made to save the district $134,566.
Grosdidier said the board's February meeting could delve into cuts to the 2010-2011 fiscal year budget. Possible adjustments include reducing the school week to four days, reducing use of facilities, reduction of staff and outsourcing of services.
Grosdidier said the current budget cuts are manageable, but the loss of $800,000 could cause the district to make more significant cuts.