Cardinals upset Sabres
Boys take down top ranked
K.C.

Sumner 47-44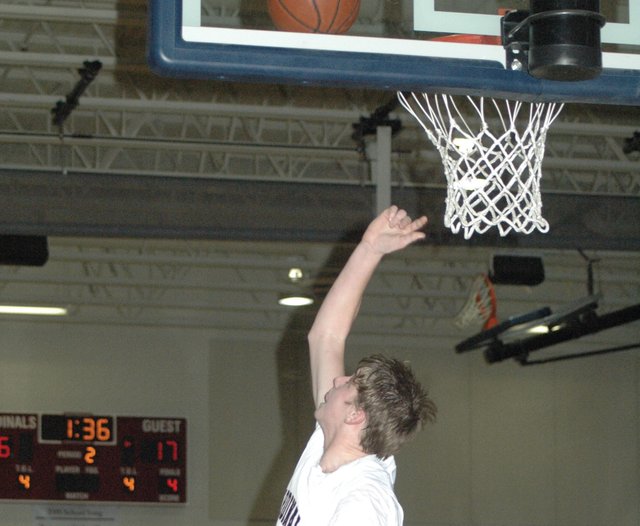 The Eudora High seniors called the team's 47-44 upset victory Tuesday night against No. 1 ranked Sumner Academy the biggest win of their careers.
And they did it with hustle, determination and defense down the stretch. And it was the seniors who provided the late-game dramatics.
Drew Noble pulled down three big rebounds in the final minute. Justin Ballock's layup with 20 seconds to play put the Cardinals up 45-42. But Sumner answered with a field goal to cut the lead to one late.
But seniors Brian Katzfey and Joel Lauer pulled down clutch rebounds and each added a free throw in the waning seconds.

"Those at the end, those were rebounds," coach Kyle Deterding said. "They had guys crashing like crazy, bodies on the floor all over the place. That was not a place for the weak of heart. To be down there, you had to be a man to get a rebound. And I thought we competed pretty well battling in there with their guys."
After Sumner's desperation three missed at the buzzer, Eudora players celebrated, and the EHS student section stormed the court. Amidst the crowded floor, Ballock and fellow senior Tyler Beebe, who was one of the students who stormed the court, bumped chests and Lauer slapped hands with sophomore Jordan Ballock at midcourt.
"We knew they play a whole different style than we do," said Lauer, who scored three points in the game. "And we had to kind of play our way because they were going to make runs. And we had to keep those to as short a time as we can, and try to keep composed and slow them down as much as we could."
There was no doubt that the Sabres were taller and more athletic than the Cardinals, especially 6-foot-4 bruiser Reese Holliday. Holliday led the Sabres with 18 points, but he had to earn every one of those tallies as Eudora threw Noble, Lauer, Coulter Vestal and Hawley Montgomery at him.
"He's probably one of the best posts we'll see, and probably one of the best all-around athletes," Lauer said of Holliday.
But Eudora competed on the boards and won the loose ball battle all game.
"We just told them this is a special opportunity," Deterding said. "It's not every time you get to play against a really good team like that. And we just told them it was a good opportunity to go out and compete, and that's what we've been focusing on is just competing and battling and getting after it and taking care of ourselves. And I thought we did a pretty good job of that tonight."
Eudora led 20 to 18 at the half and stretched that lead to 32-27 at the end of the third quarter. But in the fourth, the Cardinals were in control and never relinquished the lead.
Ballock scored six of his game-high 21 points in the fourth, and Noble scored four of his seven points in the fourth.
"We came in here ready to go," Ballock said. "We knew it was going to be tough. We played some defense and hit some shots and pulled it out."
As the Cardinals exited the joyous locker room all smiles, no one's smile was bigger than Lauer's, who wasn't quite sure if the victory was the biggest of his career or not.
"This or football my sophomore year when we beat Gardner and blew them out," Lauer said. "But this is big. As a senior it's pretty big for us."
Vestal and Katzfey scored five points, and Conner Scott and Evan Cleveland each added three apiece for the Cardinals.
Eudora (8-4) will play Friday at Paola.