At your service: Volunteers recognized for dedication to fire department and
EMS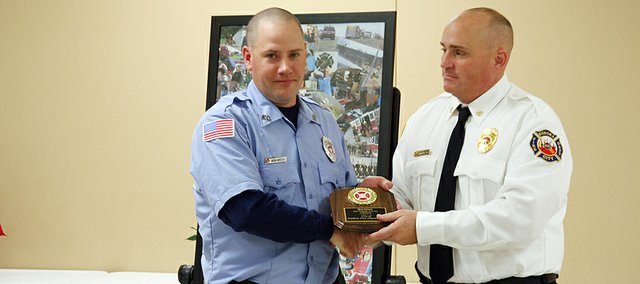 Although firefighter Ben Green and emergency medical service responder Aaron Lathrom both derive a sense of personal fulfillment from their work, they both know they are ultimately working for the community.
"If you call 911, you want someone you know you're going to trust to take care of you," said Green, who has been with the department for about two years. "You want everybody (in the department) to excel because we all could be responsible for someone you care about."
The men's dedication and commitment to improving through training caused to their peers to name them firefighter and responder of the year, respectively.
The fire department and EMS consist of volunteers and one full-time position of chief.
Both men said the fact their peers gave them the award made it all the more special.
Green, who has lived in Eudora for about eight years, got into the volunteering because he wanted to help people. He hopes to get enough experience and training to make firefighting his career.
"I'm here to learn as much as I can," Green said. "It doesn't feel like a job, and I'm honored to do it."
Green's desire to improve also has enhanced the agency.
"He's gone above and beyond expectations to better not only himself, but also the department," Deputy Fire Chief Tim Reazin said.
Lathrom, who has been an EMS responder for about three years, was shocked to receive the award.
"I was really surprised that I got it because we have a lot of dedicated professionals on our volunteer department," Lathrom said.
Responder Bill Vigneron encouraged him to volunteer. And while Lathrom immediately enjoyed helping citizens, he came to value the friendships he developed with other volunteers.
"I started off wanting to do the first aid part of it, but when I got into it I really enjoyed the fellowship," Lathrom said. "It surprised me I liked that part so much."
Lathrom, who has lived in Eudora for about nine years, said it was important to him for people to feel they were in the capable hands of a professional.
"At any given time, you're going to experience the worst day of someone's life so I try to prepare myself for that," Lathrom said.
Reazin noted the high level of service Lathrom provides as one of his best qualities.
"Knowing that the person who is taking care of you knows what they're doing develops a sense of trust," Reazin said.
And just as the men hope their level of professionalism engenders within the community a sense of trust, it already has done so within the department.
"We're responsible for each other," Lathrom said. "I can honestly say that I trust anybody in the department with my life."