Cyclists rest in Eudora during eight-day ride across Kansas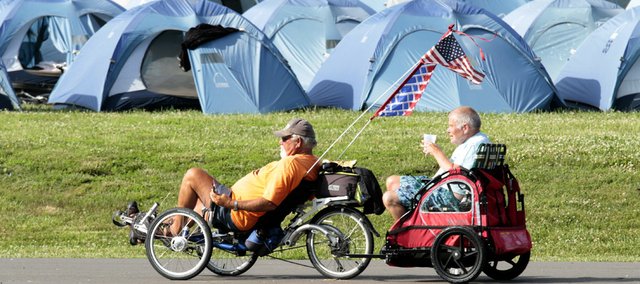 More than 800 cyclists pedaled into Eudora on Friday night to enjoy one last rest before their 492-mile ride concludes.
The riders are participants in the 36th annual Biking Across Kansas bicycle tour that encompasses an eight-day ride across the state of Kansas. The tour began at the Kansas-Colorado line just west of Goodland and ends at the Missouri River in Leavenworth.
The majority of the 868 cyclists are from Kansas, but nearly 200 riders from 30 other states are making the tour. The group of cyclists includes all skill levels, including nearly 350 new riders.
Bill Smith, a seven-year veteran of the event from Wichita, said the ride is great not only for the exercise but for the people he meets and the places he sees as well.
"It's a good way to really see Kansas," Smith said. "You ride slow and you see the countryside as well as learn about the towns and some of the interesting things that have happened in Kansas."
To help welcome Smith and the other riders ranging in age from 10 to 88, the Eudora Chamber of Commerce sponsored a Summer in the Park event at Eudora Middle School. The family-friendly evening featured free live music and children's activities, as well as food vendors.
Kristi Carmichael, a massage therapist from Michigan, spent the evening working out all the kinks and aches that accompany the long journey. Carmichael and three other massage therapists worked from about 1 p.m. to 11 p.m. every day of the ride, massaging anywhere from 40 to 60 people. She said they enjoy coming to Kansas and are always surprised by how nice everyone is.
"It's very profitable for us, but we love the excuse for a road trip," Carmichael said.
Today, riders will complete the weeklong event. For Smith, it will be a bittersweet finish.
"I'll miss all these friends and spending time with the people, but I'm ready to get off that old seat — it's starting to hurt a little," Smith said.
Pain or no pain, Smith said he's done it seven times and would do it again.