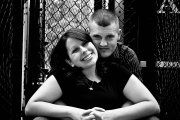 Patrick Rosencrants, Lawrence, and Kathy Rosencrants, Eudora, along with Larry and Kathy Hartman, Salina, announce the engagement of their children, Kelsey Rosencrants, Lawrence, and Glenn Peavey, Salina.
The future bride is a 2008 graduate of Free State High School and is a majoring in elementary education at Kansas State University.
The future groom is a 2006 graduate of Salina Central High School. He is an active duty soldier in the U.S. Army stationed at Fort Riley and has had one deployment to Iraq.
The couple plan an Oct. 16, 2010, wedding at Unity Church of Lawrence.