Big plays boost Cardinal boys past Piper 54-50 in
OT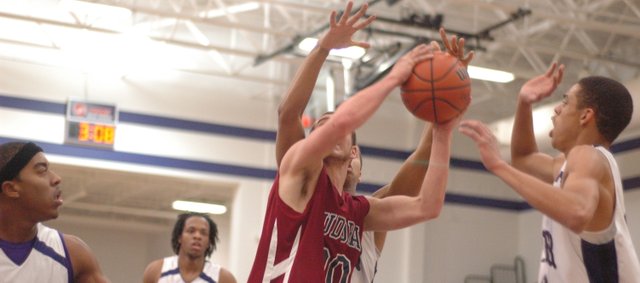 For four quarters and overtime, the Eudora High boys played their best when they needed to most.
Eudora answered every big basket by Piper all game long, and controlled the boards late, and picked up a big 54-50 overtime victory in the first-round of sub-state Tuesday at Piper.
"It's been a long time since we played a road game that well," coach Kyle Deterding said. "We competed pretty well. Even our mistakes weren't lazy mistakes. They were trying to do the right thing."
Trailing by five at 43-38 with three minutes to play in regulation, the Eudora seniors took over. Connor Scott stole a pass and scored on a layup, and Drew Noble swished his second three of the game with 1:21 left to knot the score at 43.
Justin Ballock then stole the ball on Piper's ensuing possession, and Coulter Vestal pulled down a huge offensive rebound and went to the foul-line with 50 seconds left.
Vestal's free throw put the Cardinals up 44-43, and Eudora seemed to be in control. But then Eudora nearly gave the game away twice.
Two times after pulling down a rebound off a Piper miss, the ensuing Eudora outlet pass was picked off in the waning seconds. And after a scrum for the ball and a foul, Piper's Dylan Hays stood at the free throw-line with six seconds to play and an opportunity to win the game.
Hays missed the first shot and made the second, which sent the game into overtime. Deterding, though, was pleased with his team's toughness when the game got chaotic.
"Even then we did a great job getting the rebound, and we were strong with the ball," Deterding said. "We just didn't make a good pass. I was really proud of our effort. I thought we really played hard."
In the final three minutes of regulation, Eudora's pressure defense created four Piper turnovers. And the Eudora defense only strengthened in the overtime period. While Piper scored the first field goal, Eudora answered with a 8-0 run as Vestal, Scott and Noble combined to make six free throws, and Ballock added a field goal.
"We kept our composure tonight," Deterding said. "We didn't try to force it. When we were down, we didn't jack up a shot. We kind of did what we talked about doing the whole game and getting good shots. And we didn't panic and ended up making enough shots."
Ballock led Eudora with 14 points, and Vestal added 12 points and seven boards. Noble chipped in 12 and Scott 10. Evan Cleveland had two points and four assists.
"We came out and played well," Ballock said. "Coulter played a heck of a game, Drew hit some big shots, and Evan bringing the ball up against their press. Everyone was just doing what they had to do to pull it out."
The No. 5 seed Cardinals will play No.1 ranked and defending state champ Basehor-Linwood in the second round Friday night at Basehor.

"We get to play Basehor at Basehor on a Friday night," Deterding said. "That's fun for me, so I'm hoping our kids think it's going to be fun because we're going to have to really, really compete and do everything right because they are a really good basketball team. But that should be a fun challenge for us."