Staff and parents voice concerns about half-day kindergarten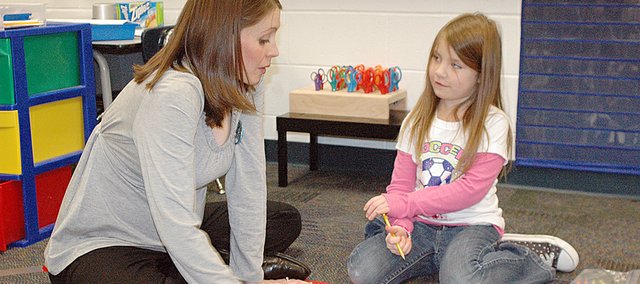 This is the first in a series of stories that will take a closer look at the Eudora USD 491 Board of Education's options for budget cuts.
Eudora kindergarten instructor Mandy Meyer walks through a minefield of paintings in her classroom as students paint pictures of an animal in a zoo and then write a sentence about the illustration.
The activity is a way for Meyer to combine art and writing. But time likely wouldn't allow for such an activity if the district hadn't gone to all-day kindergarten four years ago.
"This was an activity I would never think about doing in a half-day program," Meyer said. "To be honest with you, it is hard to fit in to an all-day program at times."
As Eudora USD 491 tries to close the gap on what will be at least a $410,000 deficit, one of its options is to discontinue all-day kindergarten.
The state only pays for half a day of instruction for kindergartners, so the district pays for the other half.
This option would cut three teaching positions and lead to four instructors teaching eight half-day classes, saving the district about $166,000.
Superintendent of Schools Don Grosdidier said the district has been using the all-day kindergarten model since the fall of 2006, with the greatest benefit being to students with special needs.
For instance, during the 2007-2008 school year, half of the students who were receiving special education services no longer needed the extra help.
Meyer said that half-day kindergarten would make such a situation difficult to accomplish.
"There's not going to be enough time to get those kids boosted up to where they're going to need to be," Meyer said.
Meyer, who started with the dsitrict the last year of half-day kindergarten, said the full-day model allowed for more time to teach the core subjects of reading, language arts, science, social studies, math, writing and health.
She said there barely was enough time to fit in any science or social studies, which at the time wasn't part of the curriculum.
"One of the bad things about going to half-day now is that we actually have a science and social studies curriculum that we have to follow," she said.
Meyer and Jim Lauer, Eudora West Early Childhood and Family Center Principal, said the negative effect would be a setback to not only the kindergarten instructors, but also first and second grade instructors who would be dealing with students who have not learned as much as students who had been in all-day kindergarten.
"All of the kids we send to first grade will be a few steps behind those we're sending up now," Meyer said.
In effect, it could cause the teachers to have to rethink the past four years of lesson plans.
Academics wouldn't be the only concern, as the social development of students could be stunted.
"The socialization is a huge aspect of all-day kindergarten," Lauer said. "A lot of children don't have a lot of interaction with other kids during their first five years."
One of the ways the district gives students a head start on that socialization is its Preschool Enhancement Program.
The federally mandated program for students 3- to 5-years-old. It has about 60 students and about a quarter of them are peer models — children in the same age group who demonstrate age-appropriate cognitive, social and emotional behavior.
Amber Cook, Eudora resident and teacher in the Lawrence School District, has a daughter who is a peer model in the program. She has another daughter who might be a candidate to be in the program because of social developmental issues.
While Grosdidier said that there are no plans to change the PEP program, Cook said she felt that all the preparation her eldest daughter Madelyn has received will be wasted should all-day kindergarten be cut.
"What the district provides draws people in to the community, so it feels like steps backwards," Cook said.
Cook said that in the absence of all-day kindergarten, she and her husband would work with their children at home. She also knew that many of the cuts that have been proposed are not the fault of the Board of Education, but leaders at the state level.
Accordingly, Cook and Meyer both said they have been petitioning state leaders, such as Rep. Anthony Brown, and several school district plan a to make their voices heard during a March 16 demonstration in Topeka.
"You wonder if you're just another voice, but nonetheless, the effort is being made," Cook said.
Grosdidier said the district is considering charging fees for all-day kindergarten, which is what districts such as Olathe and Baldwin do.
"The district has not had a history of charging fees, but with this situation, we're hearing more and more from people asking about that," Grosdidier said. "The Board is looking more at types of fees where someone is getting an extra level of service, as opposed to the base level of services. All-day kindergarten would fall into that extra category."
No fee has been established and the issue could be discussed at the March 11 Board meeting.
Another option that would affect kindergarten instructors, students and staff would be to temporarily close Eudora West Early Childhood and Family Center.
In this scenario, Eudora Elementary School would house the 200 or so students at West. This would put the school at about 80 percent capacity.
One of three administrative positions would be cut, though Grosdidier would not specify which position.
Taking into account personnel and operations savings as well as maintenance costs, this option would provide a savings of about $283,000.
"We recognize very clearly that the building is going to be needed in the future," Grosdidier said. "The idea is to maintain that building, and that means running utilities at an adequate level."
However, he said the administrative team has talked about scenarios where moving West's students and staff to EES wouldn't necessarily signal cutting all-day kindergarten.
"I would hope they would make all the cuts they can without impacting the core values and the instruction of children," Lauer said.
If West were to be temporarily closed, the timeline for reopening it remains unknown. Grosdidier said it would depend on improved base state aid per pupil and whether there still was enough room at EES.
By moving West kids into the elementary school next year, the district could see an increase in new facilities money. However, Grosdidier said the district was researching the possibility.
The Board likely will make a decision in April.
"It may be a little bit of a roll of the dice," Grosdidier said. "We're not going to know what the cuts from the state will be until the end of May or June. The next question is if they don't do anything to address the flow of revenue coming in, will they come back next year and make more cuts?"
In any case, Grosdidier said none of the options "was a done deal" and that the district would continue to investigate other possibilities.