Cards fall 42-37 to Bobcats in sub-state semifinal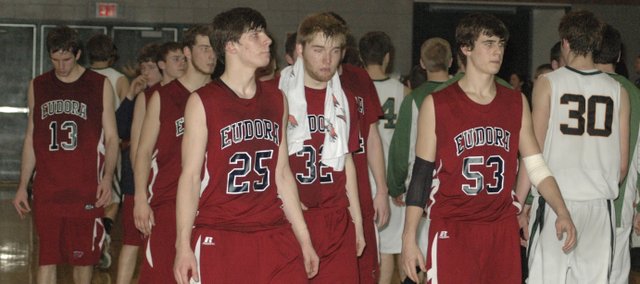 Photo Gallery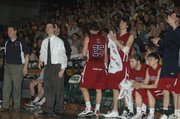 EHS boys vs. Basehor
BASEHOR – If the Eudora Cardinals could have made just one more shot they likely could have knocked off the No. 1 ranked team in the state for the second time this year.
After beating No. 1 ranked Sumner Academy in January, the Cardinals nearly pulled off the upset again, but fell, 42-37, to top-ranked and defending state champion Basehor Friday night in the sub-state semifinal.
That shot the Cardinals needed, for a moment, looked like it was going in when it left senior Connor Scott's hands as he lofted a three-pointer from the left wing that would have tied the game at 40 with two seconds to play. But the shot just missed wide right, and Basehor grabbed the board and hit two free throws to seal the victory.
"We had nothing to lose," Scott said. "They had everything to lose because they were the No. 1 seed, and the No. 1 team in the state. Nobody expected us to win it all, and we showed them up but came just a little short."
Eudora trailed 36-31 before Scott connected on a three-pointer from the baseline that cut the lead to two with 2:20 to play. Later, Brian Katzfey's layup cut the lead to one with 26.5 to play.
Basehor's Ryan Murphy then hit two free throws to push Basehor's lead to 40-37 with 23 seconds to go, which set up Eudora's final possession and a shot to tie the game. Eudora ran clock and called timeout with 7.5 seconds left.
Scott inbounded the ball to fellow senior Justin Ballock, who has had a knack for hitting big shots his whole career. But Basehor double-teamed him in the corner, which freed Scott on the wing.

But the shot just missed, and Basehor's Colin Murphy hit two free throws with one second to play that sealed the Bobcats' victory.
Colin and his brother Ryan Murphy, who both stand more than 6-foot-5, combined for 26 points to lead the Basehor attack.
"They were long, and they got back up pretty quick," said senior forward Joel Lauer, who had to help guard the Murphy boys. "They were a hard match up."
With the Cardinals down six with time running out in the third, Basehor hit a three at the buzzer and took a 33-24 lead into the fourth quarter. But Eudora's defense stiffened when it had to most.
The Cardinal defense forced the Bobcats to misfire on its first six possessions of the fourth quarter. Eudora then went on a 7-0 run as Ballock scored five points, and Drew Noble added two free throws.
But then Basehor connected on a three and Eudora trailed, 36-31, with 2:43 to play. It was Basehor's only made field goal of the quarter.
"That one that end of the third was a killer because it went from six to nine," coach Kyle Deterding said. "I thought it would deflate us, but our kids bounced back. And it's a one-point game with 45 seconds to go even after that. And that would have been an easy time to say, 'Well, we gave it a shot and it wasn't our night,' but our kids buckled down even more and battled and battled and we had a shot at that thing."
Ballock led Eudora with 11 points, Katzfey eight, Noble seven, and Scott had five. Eudora finished the year 11-11. Basehor will play Sumner Academy in the sub-state final Saturday night in Basehor.
Score by quarters
1 2 3 4 F
Eudora 10 9 5 13 37
Basehor 14 10 9 9 42
Eudora: Coulter Vestal 3, Connor Scott 5, Evan Cleveland 3, Justin Ballock 11, Brian Katzfey 8, Drew Noble 7.
Basehor: Ryan Murphy15, Colin Murphy 11, Rickie O'Donnell 7, Evan Theno 3, Austin Stubbs 2, Jake Hattock 4.
More like this story