EHS

seniors cap careers just short of state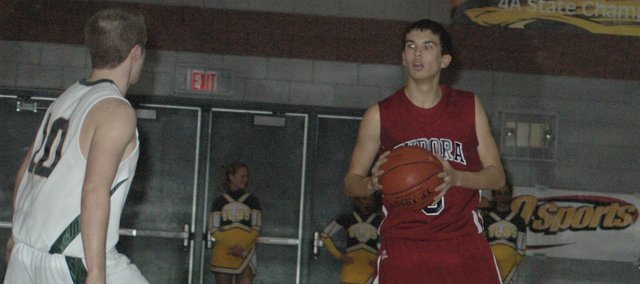 It's not the way eight Eudora seniors wanted to end their careers. They always dreamed of qualifying for the Class 4A State Tournament, but that dream ended with a 42-37 loss to top-ranked Basehor Friday in the sub-state semifinal at Basehor.
"It hurts," said senior Justin Ballock, who led the Cardinals with 11 points in the game. "We were within three with seven seconds left on the last shot. It's tough, especially in that way."
Eudora matched Basehor nearly basket-for-basket through the first half, before falling behind by nine to start the fourth. But the Cardinals rallied and cut that deficit to one twice in the final minute on a free throw by senior Drew Noble and a layup by senior Brian Katzfey with 26 seconds to play.
Eudora had to foul, and Basehor hit two free throws to push the lead back to three. Eudora eventually called timeout to set up a possible game-tying play with seven seconds to go. Senior Connor Scott inbounded the ball to Ballock, who was doubled in the corner.
Ballock kicked the ball back out to Scott who just missed the three-point shot from the wing.
"I saw somebody coming, and I saw Connor step in," Ballock said. "I knew it was deep, but I saw him step into it. I though he hit it."
The loss ended the careers of Ballock, Scott, Noble, Katzfey, Matt Jump, Coulter Vestal, Evan Cleveland and Joel Lauer. But led by its eight seniors, the Cardinals played their best two games of the year in their last two contests that included an overtime road win at Piper in the first round of sub-state.
But the seniors left the locker room knowing they put forth a gutsy effort against the defending state champ, and that they could have won the game.
"It's rough when you play that well, that hard and that long," Lauer said. "And it comes down to something as small as free throws and making a couple shots. And it hurts just that much more."
Eudora coach Kyle Deterding praised his eight seniors, who will be missed next year.
"They've been a good group," Deterding said. "We haven't had any off the court trouble with that group. They're there every day in practice working hard, and it's a good group to have around. Hopefully some of our younger kids took that and soaked it in a little bit."