Experience could boost
EHS

softball team to fast start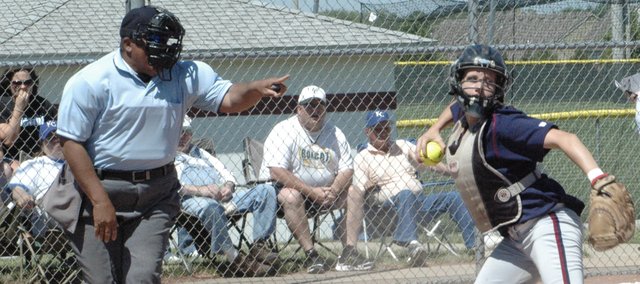 The Eudora softball team is looking to start the 2010 season the way it finished the final few weeks of last season.
Last year the Cardinals started the year 7-4 before slumping midseason. The Cardinals, though, bounced back late and advanced to the second round of regionals. And that momentum, coupled with a bevy of experience returning has coach Ty Pattison excited about the team's potential.
"We do have a lot of girls coming back," Pattison said. "A lot of our defensive positions, a lot of those were sophomores and now are juniors. So that's a plus."
Eudora will be led by its four seniors Evan Folks, Madison Oller, Abby Mott and Whitney Pope.
Folks, who is a three-time All-State catcher, will play next year at Iowa State University. As a junior for the Cardinals, Folks hit .410 and led the team in doubles (10) and walks (14). She also stole 19 bases and didn't get thrown out once. As a team the Cardinals stole 70-of-72 bases last year, and nearly all of that speed returns to the bases this year.
While speed will be a team strength, perhaps the biggest question mark will be the pitching staff. In addition to her catching duties, Folks also logged 30 innings on the mound a season ago and went 4-3 with a 5.08 ERA. But the Cardinals have lost ace Miranda Cobell to graduation. Cobell, who pitched 71 innings and won six games last year, is now pitching at Haskell.
Pattison said he wasn't planning on having Folks pitch this year because she is more valuable behind the plate where she calls a good game and controls the running game with her strong throwing arm.
"We're better with her behind the plate," Pattison said of Folks. "She's like having that coach on the field."
So that leaves Pattison with a stable of six pitchers — three freshmen, two sophomores and a junior — to compete for innings. Kate Dennis, who logged nine innings last year as a freshman, will look to take another step forward in her development this season.
Pattison said the Frontier League would be tough again this year, and the two best teams were probably Ottawa and Paola. And Pattison is already looking forward to those games.

"A couple of my team goals I have this year is to beat Ottawa and Paola," he said. "I think the only time we've ever beat them is we split with Paola and we've never really swept them."
Eudora will open the season against Gardner April 1 at Eudora.