Track team's strength could be in numbers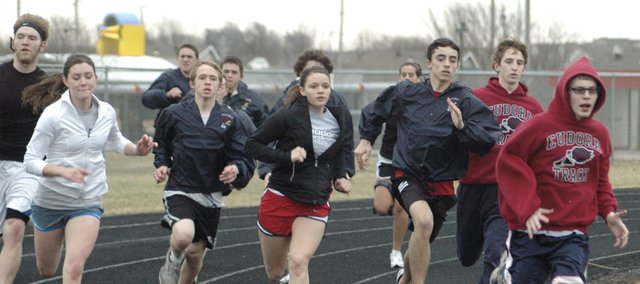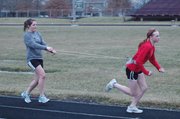 The Eudora High track team has several new faces on this year's squad. Some of those faces coach Phil Katzenmeier has seen on the team before, as a few of them are returning to the sport after a year or two absence. And others are veterans who are out for track for the first time.
"That's exciting for me," Katzenmeier said. "They've done a real good job so far this week and last week. You can tell they just kind of roll. They've got things going."
There are about 70 athletes out for track this year, which are about 20 more than a season ago. While several of the new faces include Joel Lauer, Tanner Byrne, Hannah Kouri and Morgan Wiley, the Cardinals will be led by two seniors who broke school records last year: Justin Ballock and Shea Lounsbury.
Ballock broke the school record in the 110-meter hurdles and the 300-meter hurdles last year, and Lounsbury broke the school's triple jump mark.
"They are going to have to provide our leadership on and off the track," Katzenmeier said.

While the Cardinals lost sprinters Ryan Fisher, Mike White, Kendal Abel, Tianna Dunnaway, Rachel Pyle and Alisha Wingebach, as well as pole vaulter Allison Hoover to graduation last year, the Cardinals return plenty of experienced veterans including Brian Katzfey, Christian Richardson, Ryan Mendel, Kyle Snow, Matt Schultz, Ivan Espinosa and Kaya Riemann.
Eudora's schedule is also difficult this year. The Cardinals open the season March 31 at Wellsville before traveling to Baldwin, Paola and Anderson County for their next three meets. Eudora will then return home to compete in the Cardinal Relays April 24 at Eudora. The Cardinals will finish the regular season with meets at De Soto, Wellsville and Louisburg. The regional meet is May 22, and the state meet is May 29 at Wichita.

And with just two weeks to go until the team's first meet, Katzenmeier said the team was showing early season progress.
"We'll try to keep them healthy and get them in the best condition we can," he said. "And with so many new faces, that'll be a question mark."