USD

491 Board approves stadium bids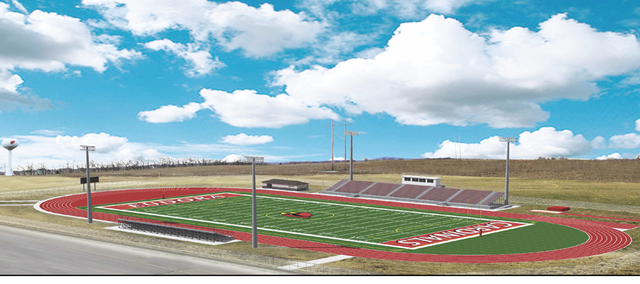 The Eudora USD 491 Board of Education at special meeting Tuesday night unanimously approved bids to build a district stadium.
ATG Sports will build the stadium at a cost not to exceed $1,888,418, which is about $1.1 million less than the district had originally budgeted.
The fate of the facility, which is the final project associated with the district's $45 million bond issue, had been in question for several months.
The district had put the stadium at the bottom of the list of projects to be completed because those that would affect academics had a higher priority.
District construction consultant Don Swartz said if the district decided to build a stadium, the projects could come in about $940,000 over budget.
In order to mitigate the overage, the district paid $25,000 for design and a list of supplies needed to build the stadium. This method allowed Board members to choose certain parts of the stadium the district could afford to have built and other parts on which it would wait.
The initial parts of the stadium that will be built are the field, an eight-lane track, a fence, lights, restrooms, concession stand and scoreboard.
The facility will cause the bond projects to come in about $600,000 over budget. The district will pay for the overage by financing about $590,000 in TAC energy projects associated with other bond construction.
Raising the mill levy also could fund the overage, though that will not be decided until a later date.
The stadium's construction also will free up the Nottingham and Laws Field site for development. Developing the property could increase Eudora's minuscule business tax base, while at the same time providing financial relief to the district.
The property was appraised in 2008 at $845,000. Demolition could cost as much as $200,000, but Swartz said that likely wasn't the case anymore because the costs have sharply decreased.
Nancy Jackson also was appointed to fill the vacancy on the Board left by former board member Keith Nowland's resignation earlier this school year.
Jackson, 43, has worked several years in financial management and currently works for the Land Institute. She has two children in the district.
"With such huge budget challenges facing us and as a parent of two children who is vitally interested in this, it would be irresponsible to not step up and say I'm willing to help out," Jackson said. "This I my attempt to do that, and I'm very excited and very chastened, too."
Nine people applied for the position, and an interview team consisting of Board members Eric Votaw and Board President Kenny Massey screened candidates. Board Vice-President Joe Pyle was supposed to participate in the interviews, but a death in the family precluded his participation.
"She has a very strong background in financial governance and her resume jumped out and grabbed us," Massey said. "She just blew us away with her passion and knowledge, and she's going to be a welcome addition to the Board."