USD

491 Board of Education hear from staff and patrons regarding budget cuts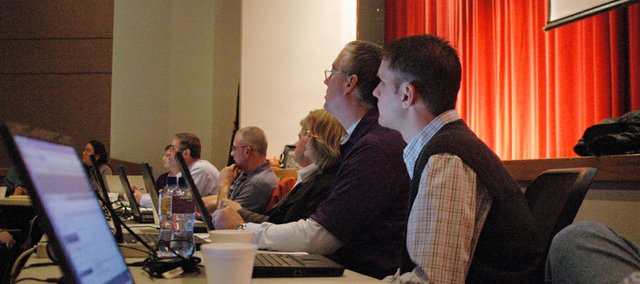 With impending budget cuts looming, teachers and parents made their voices heard at a Thursday meeting of the Eudora USD 491 Board of Education.
The meeting, which usually is in the Eudora Middle School Library, was moved to the EMS auditorium to accommodate the 100 or so people in attendance.
Four teachers and four patrons made public comments in opposition of cutting all-day kindergarten at Eudora West Early Childhood and Family Center and three reading positions at Eudora Middle School.
The positions and programs are part of a long list of possible cuts the Board is considering.
This school year, the district has cut about $190,000 in programs, supplies and personnel. That still leaves a $220,000 deficit that will be covered by unencumbered cash balances.
The district still will have to deal with a $410,000 budget deficit for next year caused by state Legislators' continued cuts to base state aid per pupil.
Board members said they appreciated the input and time of those who attended the meeting.
Kenny Massey noted his vexation with the budget, but also was a steadying voice.
"It frustrates me to try to clean up a mess that other people have created," Massey told those in attendance. "We —the board, the citizens of Eudora, the teachers, the students — we didn't create the situation we're in. But now we're tasked with fixing it. And as the other Board members have said, we'll be very meticulous as we work through this and we'll get it right."
Superintendent Don Grosdidier also said it was gratifying to work in a community with members who valued education enough to come to the meeting.
"The choices we've got at this point in time are choices that are bad for kids," Grosdidier lamented. "It's very difficult for me or the Board to make these decisions because all of these things effect some students somehow."
Grosdidier went into further detail regarding a slew of possible cuts, noting they weren't listed in order of importance.
Possible cuts were:
• Temporary closing of Eudora West Childhood and Family Center.
In this scenario, Eudora Elementary School would house the 200 or so students at EWCFC. This would put the school at about 80 percent capacity.
Taking into account the cutting of one administrative position and operational savings as well as maintenance costs, this option would provide a savings of about $283,000.
However, the move also could generate an estimated $121,000 in new facilities revenue.
• The Board also needs to decide if it wants to maintain the class size at EES. If so, three teachers need to be hired, which would cost about $168,000 in salaries and equipment.
• Go to half-day kindergarten.
The state only pays for half a day of instruction for kindergartners, so the district pays for the other half.
This would cut three teaching positions and lead to four instructors teaching eight half-day classes and save about $166,000.
However, it would cost the district about $5,000 in transportation costs.
The district could charge fees for all-day kindergarten, though.
Depending on the number of class sections, the district would need to generate between $44,000 and $88,000 to cover additional salaries.
This would require fees costing between $56.25 and $67.50
• Cut the Parents as Teachers program, which is a national organization for families with children between the ages of birth to 3 years old. Its purpose is to educate parents about their child's intellectual, social, emotional and motor skill development.
It is offered free through the Eudora USD 491.
Cutting the program would save the district $11,300.
• Close Nottingham Community Learning Center.
Nottingham currently houses technical education classes, a Bert Nash satellite office and the community learning program.
The tech classes will move to new facilities this summer and much of the buildings use is for the public. The building would not be totally closed, as it houses the district's technology hub.
This option would save about $27,000.
• Eliminate positions at Eudora Middle School.
The positions that could be cut are three reading positions, a half-time math skills instructor and a library aid.
These cuts would mean a savings of about $173,000
• Cut the activities director and library aide positions at Eudora High School.
And at Eudora De Soto Technical Education Center, eliminate three part-time positions for the culinary arts, graphic printing and health careers programs.
These cuts would mean a savings of $187,000.
• Reduce the school year by 10 days.
This would be accomplished by adding about 20 minutes to each day and could save the district about $100,000 because of less working days for food service, custodial, clerical, transportation and para-professional workers.
• Start charging students for participation in extra curricular activities.
The district spends about $110,000 on such activities at EMS and about $400,000 on activities at EHS. A one-time $50 fee could raise about $12,000.
Technology, transportation, text book and art supply fees also are possible.
• Outsource janitorial services for a savings of about $33,000.
• Look into cutting transportation costs. The state only funds transportation of students who live at least 2.5 miles away from school. Grosdidier said only about 160 students of the district's more than 1,500 live outside that distance.
A decision on all-day kindergarten will come at the April 8 meeting. Other options can wait until a special meeting that will be set sometime after April 15, which is when the state will announce the next round of revenue projections.