St. James' rally falls short against Eudora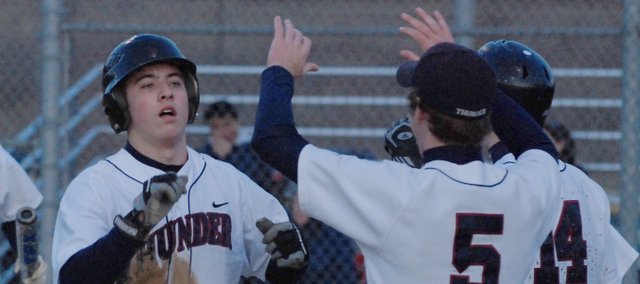 Barely 24 hours after suffering a season-opening 3-1 loss to Class 6A powerhouse Lawrence Free State, St. James Academy returned to its own class size for a 4A showdown with Eudora.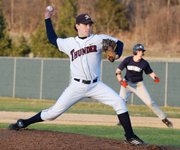 The Thunder jumped on top early, but a rough patch in the fifth inning caused them to fall behind and ultimately lose, 5-4, Thursday night at Mid-America Sports Complex.
"It's one of those things where we didn't do enough to win that game," St. James coach Brian Bucklin said. "We gave them a lot, and at the plate too.
"We gave them 12 free bases, either by walks or errors or by twice they advance on two bases on a ball behind the dish. Those are things that if we are going to play winning ball we can't do, and those are easily correctible."
The Thunder got off to a good start with Kyle Urban on the mound. He allowed just one hit and two walks through four innings while striking out four, and he left the game with a 2-1 lead.
St. James plated its two early runs in the second inning. Derek Roberts bunted for a one-out single and Nick Deichler followed with a walk. Drew Martinez drove home Roberts with a base hit to left, and Deichler scored on a sacrifice fly by Jake Wodtke.
Eudora turned a leadoff walk into a run in the top of the fourth to pull within 2-1.
Chase Jackson entered in relief for Urban in the fifth inning. Jackson walked the first batter he faced, but he got the next two out. Two more walks, a base hit and two errors allowed the Cardinals to plate four runs and take a 5-2 lead before Adam Burns entered in relief for St. James.
Burns faced seven batters and got them all out during the final 2 1/3 innings. His precision on the mound gave St. James a chance to rally, and the Thunder almost pulled off the comeback.
"What (Burns) brings is just good tempo and he throws strikes. It's no secret after that," Bucklin said. "You can go back forever, if a pitcher throws strikes you're going to get people out."
Trailing 5-2 entering the bottom of the seventh inning, Martinez earned a leadoff walk. Austin Murrell struck out, but Wodtke came up next and was hit by a pitch. Then Calin McCourt loaded the bases when he reached on an error. Next, Doug Leikam grounded out, but two runs scored on the play to make it 5-4, but Andrew Tenbrink struck out to end the game.
"We did battle at the end, and that's a good thing," Bucklin said. "We executed some things. You always talk about in baseball executing what you're asked to do, and in the seventh we were taking (pitches), we got some guys on, guy gets hit by a pitch, and all of a sudden we've got something rolling, so it was good to see it there. But you've got to have it for seven innings. Being consistent is the key in baseball, so that's what our focus is going to be and that's the point we've been trying to make the last couple nights."
St. James (0-2) next plays Monday at Bishop Miege, followed by a Tuesday game at Baldwin and a Wednesday contest at home against Maranatha Academy. Playing five games in eight days might seem overwhelming, but Bucklin said he likes to have his team active early in the season.
"We do like to get them out here early and see what we've got, because we've got to figure out who's going to win some spots and see who are going to be the most consistent guys for us," he said.