Eudora nursing home makes list of best in
U.S.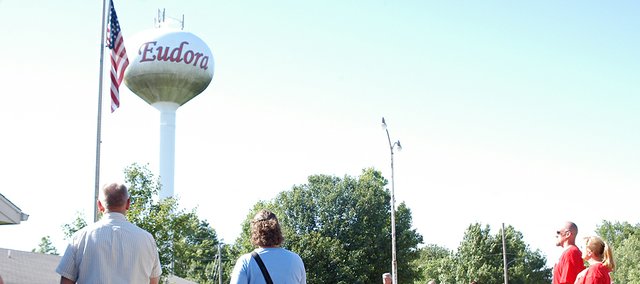 Three Douglas County nursing facilities, including one in Eudora, are on U.S. News and World Report's Best Nursing Homes list for 2011.
The U.S News ranking is based on health inspections, nurse staffing, and quality of care.
Medicalodges Eudora, Lawrence Presbyterian Manor and Lawrence Memorial Hospital's Skilled Nursing Facility made the list by earning an overall five-star rating from the magazine.
Of the 350 or so nursing homes in Kansas, a total of 54, or 15 percent, made the list.
Mitzi McFatrich, executive director of Kansas Advocates for Better Care, applauds the area skilled nursing facilities, and said the list offers a place for consumers to start researching the best fit for them or their relatives.
"If I were a consumer, I'd want to know which facilities in my area are achieving a five-star rating, and I'd be particularly interested in the health inspection rating because that information is done by an objective third party."
The nurse staffing and quality measures are self-reported.
She added the U.S. News list provides just a "snapshot" of activity at these nursing homes.
"I think it's really important to look at the trends as well as to look at who is doing well at the present moment," McFatrich said.
The U.S. News report looked at:
• Health inspections. These are conducted by state agencies about every 12 to 15 months. They also investigate complaints from residents, families and the public. It includes a checklist of 180 items, including food preparation, infection control, fire safety and proper skin care. Lawrence Presbyterian and LMH both received a five-star rating, and Medicalodges earned three stars.
• Nurse staffing. To earn five stars, nurses and aides had to provide slightly more than four hours of care a day to each resident, including 33 minutes from registered nurses. Lawrence Presbyterian Manor earned four stars for providing 1 hour and 21 minutes per resident for all nurses, and Medicalodges earned four for providing 1 hour and 3 minutes. LMH was not evaluated in the category.
• Quality measures. Nursing homes submit clinical data for the most recent three quarters detailing the status of each Medicaid or Medicare resident in 19 indicators, such as the percentage of resident who had urinary tract infections. Lawrence Presbyterian Manor and Medicalodges earned five stars and LMH received four.
Kansas Advocates for Better Care provides a list of Kansas nursing homes cited with 10 or more deficiencies for each of the home's three most recent inspections, and a list of those with five or fewer deficiencies.
No Lawrence or Eudora nursing homes made either list.
More like this story