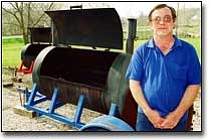 Don Land, owner and creator of Don's Smokers, builds, sells and
rents smoker grills at his home north of town. Before he started
making the large grills, Land made metal yard ornaments, seen in
many front lawns around town. Land said he is entering his busy
season as summer approaches, a popular time for group cookouts and
outdoor fund raisers.