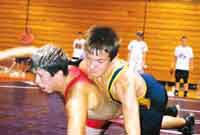 Monica Durkin/the Eudora News Eudora wrestler David Westerhouse, a
soon-to-be sophomore at Eudora High School, puts a move on his
opponent during the 15th annual Sunflower State Games in Topeka. A
total of nine past and current Eudora wrestlers, participated in
the event. Coach Bill DeWitt (inset) also took to the mat Saturday.