Emily Miller/The Eudora News
April 13, 2005
Angela Yarnell leads the choir in practice. Yarnell has been a
choir teacher at Eudora High School for three years.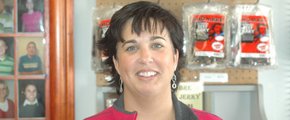 As much as I hate government interfering with our lives, I love the smoking ban. Going out in Lawrence is so nice without smelling cigarette smoke at your table while eating.
— Roberta Lehmann