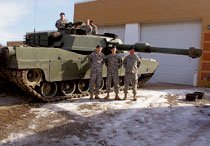 The members of Charlie Company, 1st Battalion of the Kansas Army
National Guard's 635th Armored Division are veterans of two Kosovo
missions, where the presence of U.S. military firepower like the
unit's M-1 Abrams battle tank helps keep the peace. The company,
led by Capt. Trent Miller of Eudora, trains for battle on a
simulator but also has hands-on experience with the real thing.
Front row, from left -- members of the company are Miller, Sgt.
Jeremy Duehring, Raytown, Mo., and Steven McCord, Shawnee; on the
tank -- Spc. Josh Moore, Overland Park, Spc. James Hallagan,
Overland Park, and Sgt. Dominic Cantu, Basehor.