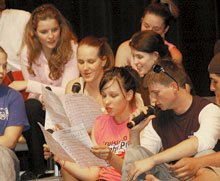 Eudora High School seniors belt out a special song during rehearsal
for Platinum 2007 "No Day But Today." The seniors chose to sing
"Don't You (Forget About Me)" made famous by the band Simple Minds
in the film "The Breakfast Club." Performances will be at 7:30 p.m.
Friday and Saturday in the Eudora Middle School auditorium. Tickets
are $5 for adults and $3 for students. More photos from the show
can be found on Page 10A.