Wedding
Brown and Thompson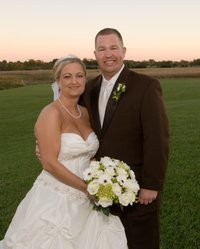 Megan Brown, Eudora, and Ryan Thompson, Louisburg, were married Oct. 2, 2010, at Worden United Methodist Church, with the Rev. Bud Tuxhorn officiating.
The bride is the daughter of David and Twilla Brown, Baldwin City.
The groom is the son of Robert and Jo Ann Thompson, Louisburg.
Maid of honor was JoLynn Barnhill. Best man was Justin Bush. Bridesmaids were Jill Spader and Leslie Dlugosh. Groomsmen were John Williams and Jason Burk. Candlelighters/ushers were John Brown and James Nielsen. Guestbook attendants were Kelli Haeffner and Hannah Costigan. Reader was Kalie Harris. Vocalist was Bruce Ausherman. Pianist was Susan Gammon. Cake servers were Susan Krumm and Destri Sievers. Reception hostesses were Kelly Wintermantel, Carla Tuxhorn, Kim Heckathorne and Marleen Harris.
A reception followed at the church.
The bride is a 1998 graduate of Lawrence High School. She earned a bachelor's degree in animal science from Kansas State University in 2002 and is a senior payroll specialist for Garmin International.
The groom attended Louisburg High School until 1999 and continued his education at Paola Adult Education Center, graduating in 2004. He is a 911 dispatcher and reserve deputy for the Miami County Sheriff's Office.
The couple reside in Eudora.