Wedding
Smith and Ruff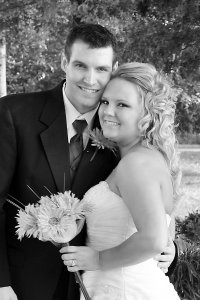 Ashli Ruff, Eudora, and Justin Smith, Ottawa, were married July 9, 2011, at the Holiday Inn Lawrence, with Judge Robert Fairchild officiating.
The bride is the daughter of Danny and Tani Ruff, Ozawkie, and Debbie Hart, Lawrence.
The groom is the son of David Smith and Rhonda Smith, both of Ottawa.
Maid of honor was Jessica Ruff. Best man was Michael Rincon. Bridesmaids were Wendi Burke, Serena Randolph and Lindsay Brown. Groomsmen were Ryan Smith, Kyle Smith and Michael Kennett. Flower girl was Kaydence Martin. Ringbearer was Kai Pearson. Guest book attendants were Tyler Smith and Zachary Edwards. Ushers were Lucas Monnich and Garrett Hines.
A reception followed at the Holiday Inn Lawrence.
The bride is a 2006 graduate of Eudora High School. She earned a bachelor's degree in elementary education from Emporia State University this May and is currently working for the McPherson school district.
The groom is a 2005 graduate of Ottawa High School. He earned a bachelor's degree in business management from Emporia State in 2009 and is an assistant manager at the McPherson Walmart.
The couple reside in McPherson.