Wedding
Kissinger and Boone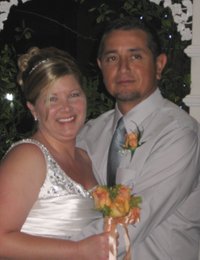 Michelle Kissinger, Lawrence, and Dale Boone, Eudora, were married April 30, 2011, in Las Vegas with Marty Williams officiating.
The bride is the daughter of Janet Kissinger, Shawnee, and the late Edmund Kissinger.
The groom is the son of Charlene Boone, Kaiser, Mo., and the late Norman Boone.
A reception will be given today in Linwood.
The bride is a graduate of Lawrence High School. She attended Johnson County Community College and Kansas University and is employed with Lawrence OB/Gyn Specialists.
The groom is a graduate of Eudora High School and is employed with Kansas Gas.
The couple reside in De Soto.