One year after Columbine, safety is an emphasis
If they weren't aware of it before, the Columbine High massacre, which left 15 dead the bloodiest school shooting in American history officially put an end to any thoughts by educators that it could never happen here.
One year later, the message is clear: No threat is too small. No warning is to be taken lightly.
"We're not immune from it," said Eudora High principal Marty Kobza. "We can do everything we can to prevent it, but that doesn't mean any place is 100 percent safe You can't say anymore it is a case of kids being kids. That's been proven too many times in the last few years."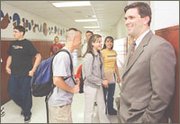 Paducah, Ky.
Jonesboro, Ark.
Springfield, Ore.
Littleton, Colo.
Once these were merely dots some very tiny on the map. Now, they are forever scarred stigmatized by school shootings.
"It can happen anywhere," Kobza said.
That point was reiterated Monday in nearby DeSoto, when an anonymous call to The DeSoto Explorer warned of a shooting at Starside Elementary the following day. The threat was taken seriously by school district officials and law-enforcement authorities, who continue to investigate the matter.
It was also no laughing matter for parents, who took their children out of school at mid-day some of them vowing not to allow their children to return until the man making the threats was taken into custody.
That's not surprising, Kobza said.
"Before academic achievement, the No. 1 priority for parents is that their children our safe," Kobza said.
Or, as safe as is reasonably possible.
Most school districts have taken a zero-tolerance approach to threats. They've also updated their crisis plans once isolated to natural disasters like tornadoes and floods to include school violence.
The Eudora district has worked hard with the city police department to ensure if an incident occurs, a plan is in place.
"We just updated the procedure to make sure everyone understands what would happen, what their role is, if things did go south," said Eudora Police Chief Bill Long.
The plan identifies the role of every staff member during a crisis situation. School staffs have had workshops on the subject and they have gone through crisis drills in the last year.
"It has gone so far as to say that every imaginable situation there is we have attempted to cover," Kobza said. "Everything has been communicated."
However, most of the preventative measures in place are the responsibility of the school staffs, which look for anything out of the ordinary with students, be it in behavior or the way they are dressing.
While admitting that hindsight is 20-20, Kobza said the massacre in Littleton, Colo., could have been prevented had the school's administration looked for some of the warning signs, which are now crystal clear.
"It was a foreseeable incident because you had a group of students who individualized themselves," Kobza said.
A group of students began wearing black trenchcoats to school the Trenchcoat Mafia and drew the reaction of other students. Reports showed they were chastised, picked on and bullied to the point that they retaliated in a heinous way.
"There was no purpose for them to be dressed in that manner," Kobza said. "In essence, they made themselves targets for the criticism of other kids. I understand individualism and I understand the kids need to be different and express themselves, but when you do that, you can't expect other kids not to react."
It is not uncommon to see Kobza or other faculty members in the parking lot each morning greeting Eudora High students and seeing to it that they are dressed appropriately.
"It's a pretty tight dress code, if you will," he said. "Anything that can be called 'gang,' is not allowed. We're looking out for the safety of our students. What they don't realize is when they wear colors or something out of the ordinary, they are making themselves into targets."
District personnel have been on alert this week because of the one-year anniversary of Columbine.
"I look at the number of schools rural schools across the state of Kansas that have had threats and it's just amazing to me," Kobza said. "There are 1A and 2A schools getting bomb threats. It's not something you would expect to see, but the point was driven home to us:
"No one is immune to this."