Red-hot Redbirds
Pitching, defense strong in sweep of Oskaloosa
Coach Jon Dunaway challenged his pitchers on Monday to throw first-pitch strikes, to stay ahead in the count and to make the Eudora High defense do the work.
The pitchers responded, as did the defense.
The Cardinals swept Oskaloosa, winning 12-0 in the opener and 9-3 in the nightcap.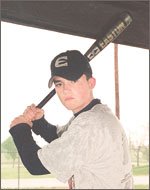 "I'm proud of the way we played defensively," said Dunaway, whose team improved to 7-5, heading into Thursday's doubleheader with visiting Prairie View. "We made the routine plays. That's what wins games. We kept (Oskaloosa) off the bases."
Jeff Way surrendered two hits in four innings of work in the opener. Brent Carnagie mopped up in the abbreviated contest to pick up the save. In the second game, Daniel Chrislip went six innings and surrendered just a run on three hits.
On offense, the Cardinals were led once again by senior shortstop Aaron Rose and freshman first baseman Andrew Pyle.
Rose, Eudora's leading hitter, had three hits, including a home run, and four RBI, while Pyle collected six hits, including a grand-slam homer in the first game, and six RBI from his leadoff spot in the batting order.
Sophomore Brock Robson also came through with a couple timely hits in the second game, while Chrisip hit a home run.
The doubleheader sweep of Oskaloosa came after a confidence-building doubleheader split with Spring Hill, considered the team to beat in the Frontier League.
The Cards rallied from a 5-0 deficit to take the lead in the fourth inning by scoring six runs. Chrislip's two-run double gave Eudora the lead for good, and was added to in the seventh with six more runs.
Carnagie went the distance to pick up the victory.
"That was a big game for us," Dunaway. "We've struggled with believing how good we can be."
Spring Hill won the nightcap, 12-4.