Some of Cindy True's family thinks she's gone to the birds. Upon visiting her rural Eudora home, some might say her family is right. But the self-employed bird breeder insists her work is nothing to squawk about.
Cindy's fowl interest began when her husband purchased their first bird, Romeo. She learned about birds working at a Lawrence pet store, then contacted another breeder to learn how to breed.
"That's where I started learning about them," Cindy said. "Working at the pet store, you don't learn anything about the breeding process."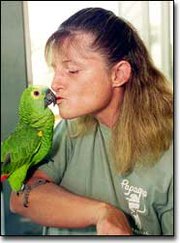 Cindy decided to try her hand at bird breeding by starting with five pairs of birds. She now has 22 pairs. Cindy's birds aren't of the average backyard variety. She has five species of cockatoos and six species of amazons, all close to the parrot family. Her collection even includes the citron cockatoo, which is on the endangered species list.
Her birds are well voiced in learning phrases and whistling, including songs. Cindy said Romeo could even sing the theme song from The Andy Griffith Show.
"The more time you spend with them and teach them, man, they'll talk up a storm," Cindy said.
Having an aviary filled with talking birds does have its advantages. The bird's high-decibel squawking can act as an adequate house alarm.
"You don't ever have to worry about someone going into the bird room that you don't know," she said. "They'll let you know something's not right."
There are some disadvantages as well. With the birds going through $50 of feed per month, there's going to be some mess. Fourteen-year-old David True said the birds' maintenance could make him want to fly the coop.
"Cleaning the cages is pretty bad," David said. "If you let them go longer than you're supposed to, it'll get really bad."
Cindy said the cockatoos eggs must be incubated because the birds have a tendency to destroy them. Also, the birds get sensitive during the breeding process.
"Once they've breeded with another bird, they're not really pets anymore," Cindy said. "During breeding season they'll take your arms off."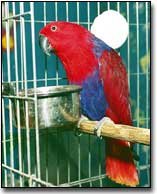 Her care and the rarity of the birds do come at a price, with birds ranging from $400 to $1,500 each. However, Cindy said her focus has been to breed the birds, then find them a good home.
"I haven't gotten to the point where I market my birds," she said. "I just want to find them good homes. My goal is to keep them until they're ready to go to a house. My goal also is to get them in a home while they're young so they get used to their new family."
Business aside, Cindy said she would like to have more involvement with the community and with local schools.
"I'd like to get more involved," she said. "I'd like to let the community know what wonderful animals they are. They're so smart, so intelligent. They love you like a child does."
Anyone wanting more information on Cindy True's birds or breeding may call 542-8779 or E-mail her at cindyt@midusa.net