'

I could see the growth coming'
Former Eudora pharmacist recounts memories of small-town Eudora and its quest for growth
Alf "Ole" Oleson has had a hand in helping Eudorans both live longer and be closer to home. At 83, he's watched as Eudora has grown from a sleepy little town to a lively community along an ever-developing K-10 Highway. Aside from watching the town grow, he has also helped bring businesses and services to the area with a vision of making Eudora a better place to live.
"When I came here, there were 700 people," Ole said. "It has really, really, grown. I've seen a lot of changes, all for the better."
Ole was born on Nov. 15, 1916, in Independence, Mo. Raised in Belle Plaine, he said his interest in medicine and drug stores began when he was in the fourth grade when he began working in a drugstore at its soda fountain.
His experience and curiosity in medicine growing, his boss took notice of Ole's medicinal interest. He decided to give Ole a push in the right direction to the Kansas University School of Pharmacy.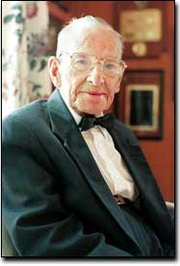 "When I graduated from high school, Mr. Goheen, my boss, handed me a bus ticket to Lawrence," Ole said. "I arrived there with no job, no money, but I got to Lawrence."
Ole found work and made his way though KU. In 1940, he graduated with a bachelor of science in pharmacy. Upon graduation, he worked five years for the KU student health center and married Dorothea (Davidson) in 1941. He served four years in the Navy with the hospital corps and served with the Seabees during World War II. After the war, he returned to the KU hospital for a year.
Ole said it was that experience which got his mental wheels turning. He wanted his own drug store, a decision that would ultimately bring him to Eudora.
"At that time, I decided I didn't want to be in a workshop type thing," Ole said. "I wanted a pharmacy of my own."
That's exactly what he received.
In 1946, Ole purchased the former Homer White Drug Store, which had been closed since White's death in 1944. Located at 711 Main, Ole said the business purchase was a dream come true.
"I bought my first drug store, what I always wanted," he said.
Ole attended to the pharmacy end of the store, while his wife attended to the sundries, which included magazines, cosmetics, cards and a candy counter. His drugstore included a bar and soda fountain known for its ice cream, Ole said. He housed school supplies for Eudora's youth and sold other over-the-counter medicines such as liniments and tonics. However, Ole said the refreshment side of the store was a favorite among locals and a large part of his business.
"We had a beautiful fountain business," he said. "Children those days didn't have a lot of choices to run to the Kwik Shops you know. We did a lot of business."
Dorothea agreed, but said some of the business came from retired farmers as well.
"It was a good place where the retired farmers, especially on rainy days, would get together and have coffee and talk," she said. "At a nickel a cup of coffee, no wonder they stayed there all day long."
One signature sign you've run into Ole is his white shirt and black bow tie. When he used to mix prescriptions, his conventional tie would get in the mix. He switched to bow ties and alleviated the problem. He still wears the ties today, mainly out of habit, he said.
"I still wear them today, white shirt and black tie," Ole said. "It's just been a habit I can't get over I guess."
Ole said Lawrence doctors would send customers to Eudora to have prescriptions filled, which he would mix and fill himself. Despite his good business, Eudora was unable to keep a doctor in practice. Ole saw the need for a local doctor and came up with a plan to bring one to Eudora.
"I saw the need for a doctor in Eudora that would be here and stay here," Ole said.
He moved his operation to 101 West 10th Street, where he built a clinic housing a doctor and his
pharmacy. After meeting Dr. Kenneth Holladay, his dream was complete.
As his 10th street business prospered, Ole decided to close the drugstore. He said the decision came from simply having too much work.
"After working night and day, long hours and a lot of work, I could see the light," Ole said. "I wasn't going to live much longer if I kept this up."
In 1970, he sold his pharmacy to Stan Byrne. He said it was time for him to get out, but Eudora's growth was still on his mind. He watched as friends got older and left Eudora for nursing homes in other cities. It was then he decided to open the Eudora Nursing Center (ENC). In 1975, ENC opened its doors, a move that has helped keep Eudora residents in their hometown, Ole said.
"I kept thinking about Eudora and I could see the growth coming," Ole said. "It worked out perfectly. We keep our elderly here at home."
Ole is also a charter Lion's Club member and a Kaw Valley Bank board member. In 1987, he was awarded the A.H. Robins award, which is given to a pharmacist from each state for what he or she does for the betterment of a community. He is still a licensed pharmacist.
Ole said bettering Eudora has been his goal the entire way.
"I think the whole picture, we're better off than we've ever been," he said. "My whole mental thoughts have always been for making Eudora a better place to live."
More like this story