Senior makes a return to the volleyball court
Returning to the volleyball court this season hasnt been an easy task for senior Alesha Hillebert.
Hillebert was injured in a car accident in August of 1999 X just days before Eudora Highs first volleyball match. Along with a friend, she was sent to the hospital with serious injuries.
Coach Kraus came and saw me in the ICU. I told him there was no way I would miss Saturday practice. Hillebert joked. I didnt make it, though.
Numerous teammates and friends visited her, which she said helped her through the hard times. Not being able to compete on the court made it even harder.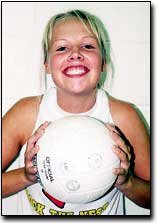 I was anxious and a little bit antsy. I remember being jealous of my teammates, she said. Watching them have fun made me want to get back even more.
In fact, she didnt make it to practice for several days. When she did return, Hillebert found she also had a broken wrist; something she hadnt known about until the painful practices.
It got to the point where, even though she couldnt play, Hilleberts life revolved around the sport. She argued with friends about volleyball, which made her miss it even more.
I just wanted to hit the ball. Thats what I missed the most. Hillebert said.
All of those memories make her appreciate being able to play this year. She was excited for Tuesdays opener at Basehor-Linwood where the Cardinals (enter results here).
It wasnt as hard coming back as she had imagined, but having to sit back and watch was tough. Hillebert is back now and ready for her senior year.
Its my last year and probably my last chance, she said, Even though it is still painful sometimes, I have got to make the best of it.
We are a good team. Height or no height, we are a good team. I cant wait to see what we can do.