School district upgrades computer systems
The Eudora School District has taken technological steps to not only move its students into the 21st century, but also ensure they are protected from dangers these advancements bring.
Last Thursday the school board approved purchasing educational computer software and leasing new Apple computers for Eudora West Elementary and Eudora High to run the programs.
The new computers will be equipped with software that restricts students from getting into inappropriate Internet Web sites. Currently, Internet access at the high school goes to "safe" sites, but does not restrict a user from going beyond to inappropriate sites. There have been no reported incidences, but the new software will ensure students are denied access to inappropriate Web sites.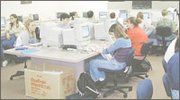 "We have not had any problems," said Margery McElwee, the school district's technology director. "The board wanted to safeguard against any problems."
Eudora High Principal Marty Kobza said he knew of only one instance where a student opened anything inappropriate on a school computer.
"I think there was a cartoon that was pulled down," he said. "I think it was an e-mail that someone sent, like an enclosure."
The EHS computer policy states with the first violation the student gets a warning. A second offense results in a loss of computer privileges for nine weeks. A third infraction results in lost computer privileges for the semester.
"We have not had to enforce that policy," Kobza said.
Eudora's computer upgrade is a positive for the entire district, McElwee said.
By the start of the next school year, the district will be equipped with Classworks, a program designed to assess each student's progress in reading and math, allowing a teacher to determine the rate of learning without having to individually test each student. This software would ultimately reduce the time it takes to assess students, giving teachers more one-on-one time with pupils.
"Assessment is vital to discussing each students reading ability," McElwee said. "With Classworks, the kids can learn individually, and learn at their own pace."
"You can't stay in the old teaching habits because everybody's passing you by," said school board member Greg Neis said.
New computers and the Classworks software move the school forward with modern teaching methods, Kobza said.
"It's going to be terrific," Kobza said. "They just kind of took a leap into the 21st century with one fell swoop. You're still going to have your teaching, you're still going to have delivery of one-on-one teaching."
Aside from educational software, the new computers will help students with schoolwork. Erik Peltzman, EHS library aide, said many students become frustrated with the computers at EHS and dread having to work on the school's computers because they're slow and experience glitches.
"We have 50 minutes to teach a class, and if 15 of those are spent waiting, you've lost 15 minutes of time," Peltzman said.
He gave an example of one learning disabled student who was working on a presentation and saved two identical copies on two different disks. The student tried to open one disk, and the computer froze, erasing the entire disk. On the second attempt, the other disk was erased as well. He said many teachers are aware of the computer problems and said the teachers are favorable toward the purchase.
"I know that with the teachers, it was very outspoken that we do need it," Peltzman said.
Peltzman, who tutors students and oversees the library/computer lab after school on weekdays, said the new computers and software would be a great help to him also.
"I continually have to look over my shoulder to see what's going on," Peltzman said. "Usually the biggest problems I have with that is an accident."
However, he said, until the new system is in place, he will spend much of his time acting as a policeman, rather than giving the students the attention they deserve.
"If there's one student needing help and another comes in to use the computer, I can't go anywhere," Peltzman said.